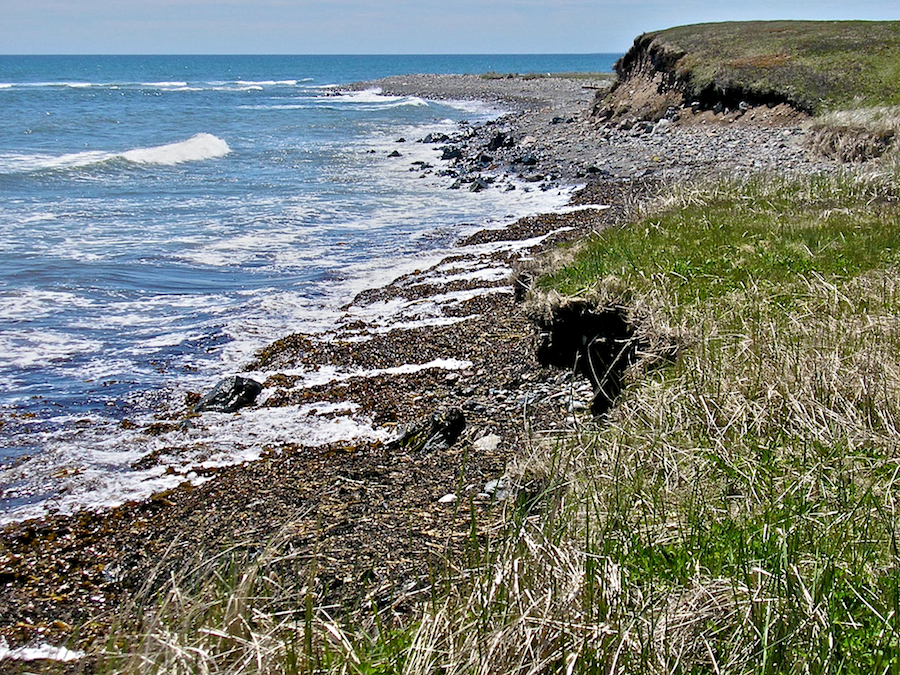 2.6 km (1.6 mi) east of the L'Archevêque Road on the Fleur-de-Lis Trail, one encounters the St-Esprit Road. I turned down it and encountered my first house since leaving Grand River; it was also the only house that I saw in this community, named for the Holy Spirit. St Esprit Road offered a glimpse or two of the ocean through the trees—nothing good enough to stop for a photo—and a jack rabbit, who was apparently unused to seeing a vehicle on the road, as he continued munching grass on the shoulder as I passed by. 0.6 km (0.4 mi) later, I returned to the Fleur-de-Lis Trail. 0.8 km (0.5 mi) further on, I did stop at the top of a hill from which I could see, partially obscured by trees but good enough for some photos, Rorys Pond and the sand bar separating it from the Atlantic. 1.9 km (1.2 mi) after that (i.e., a total of 15.4 km (9.6 mi) east of the Grand River Bridge), I saw a sign reading "Ferguson Road #2" and decided to see where it went.
After 2.6 km (1.6 mi), I found myself at the ocean near Kemps Point (spelt Kempts Point in some sources), which is just a bit east of Rorys Pond in the area I had seen from the hilltop where I stopped for photos. This was a nice find, as there are great views of the Atlantic coast to be had from here. I stuck close to the road, but it looks to be a lovely place to walk and explore and had I had more time, I would have followed the road to its end at Rorys Pond (it was not drivable by a car beyond where I stopped) and then walked back along the shore.
When I took this photo looking west using my camera's telephoto lens, I was standing on an ATV trail in very sandy soil; no sand is in evidence here along this shore—very much the model of a gravel/cobblestone beach—but not very far inland, it is quite clear that sand dunes were deposited here some time in the not too distant past.