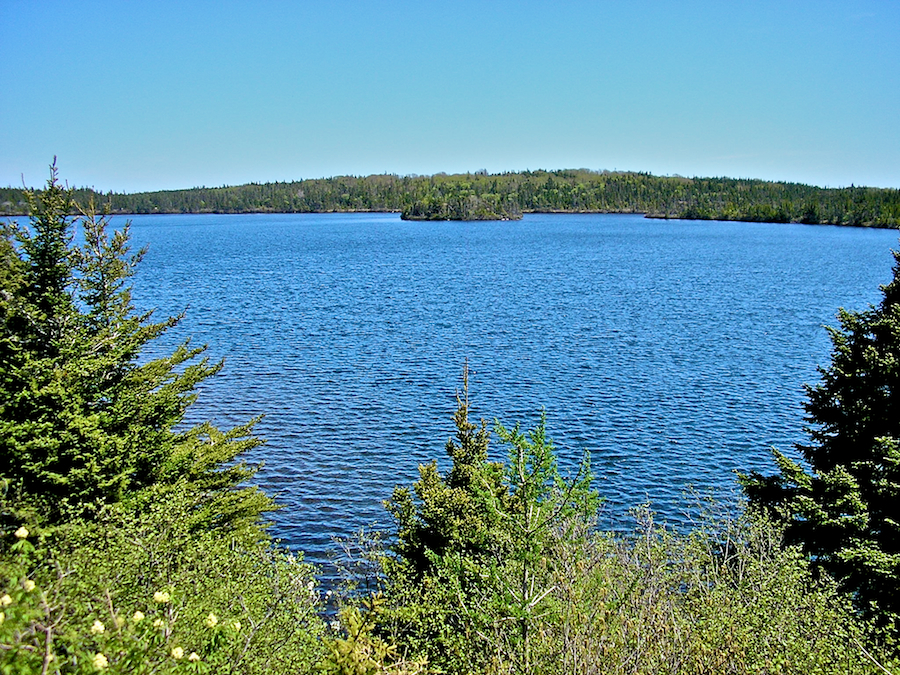 13.2 km (8.2 mi) beyond St-Esprit Lake, one arrives at Framboise after passing through almost completely unpopulated back country well inland from the coast. Here, in addition to a few homes, one is greeted by this beautifully tranquil scene, part of the Framboise River.
Framboise has a population of 44 according to this web page (again courtesy of the Wayback Machine, as the original page is no longer on-line), but, given the size of the church, it must have been a much larger community at some time in the past. I have been unable to discover on the Internet how a French place name (it means "raspberry") came to have a Scottish Presbyterian church, but all of the family names I have encountered while researching Richmond County communities north of Grand River on the Internet have been Scottish (or possibly Irish), including the few I could find associated with L'Archevêque and St-Esprit. My best guess is that these place names were bestowed during the French colonial era and were not replaced with other names as the Scottish settlers received land grants from the then largely French-speaking shire town of Arichat as they moved into this area in the 19th century, but this is purely a hypothesis.
Directly across from St Andrews Presbyterian Church is the lovely Church Lake seen in the photo above. Its outflow is a brook which, after joining other nearby streams, flows first into Upper Marie-Joseph Lake and then into Lower Marie-Joseph Lake before entering the Atlantic through Marie-Joseph Gut to the south of Red Cape.