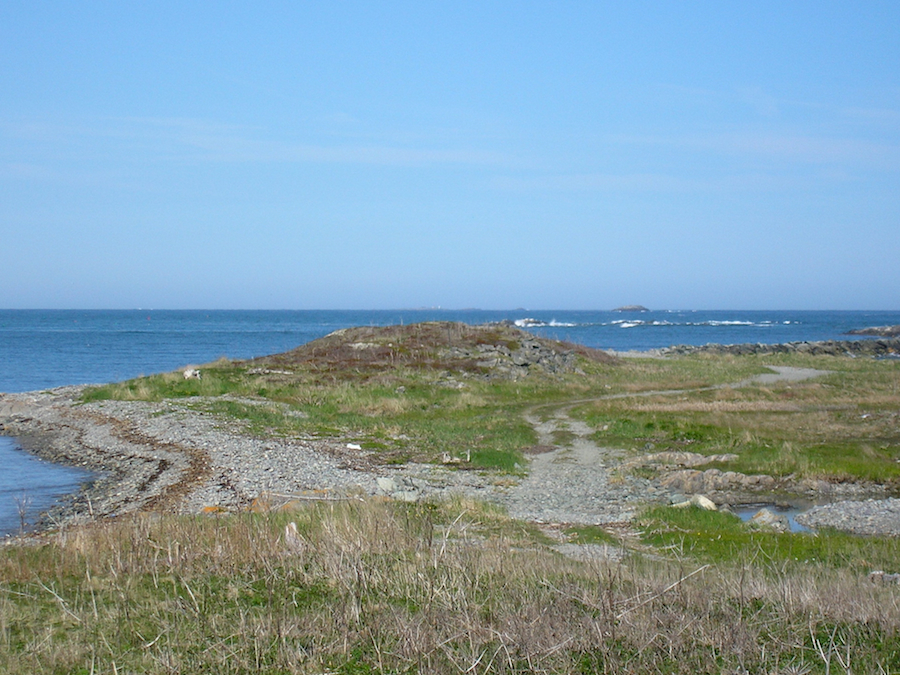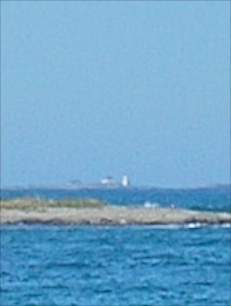 This view to the northeast shows the shore at Fourchu Head (seen via telephoto lens from the west end of the breakwater/causeway) and the rocky islets well off shore. Just left of centre on the far horizon, you will see (if you look hard) two specks of white. They were quite striking to the naked eye; I later identified them as being structures on Guyon Island. The inset at the right is a magnification of another photo of the same view: better than nothing, but not very good!
Guyon Island Lighthouse was first erected in 1877; it was replaced one hundred years later with an octagonal white concrete tower. For an ærial photograph, see this web site. Since this photo shows other buildings on the island, I assume that one of the two white specks in my photograph must be one of those buildings.
There are a couple more of specks of white at the left of the photo about a fifth of the way in. I have been unable to identify them; Fourchu Bay in that direction borders the Gabarus Wilderness Area and there are no other lighthouses in the area, so I conclude they must be boats—they are certainly lower to the water than the lighthouse specks.
Just north of Fourchu, Richmond County comes to an end and Cape Breton County begins. This is a good place therefore to end this first instalment of the tour of Cape Breton Island's east coast. I hope you have enjoyed these photos as much as I did travelling to many new places and taking them. The bounty of Cape Breton's riches never ceases to amaze me; I will for sure be back to explore more of this beautiful coast in the future!