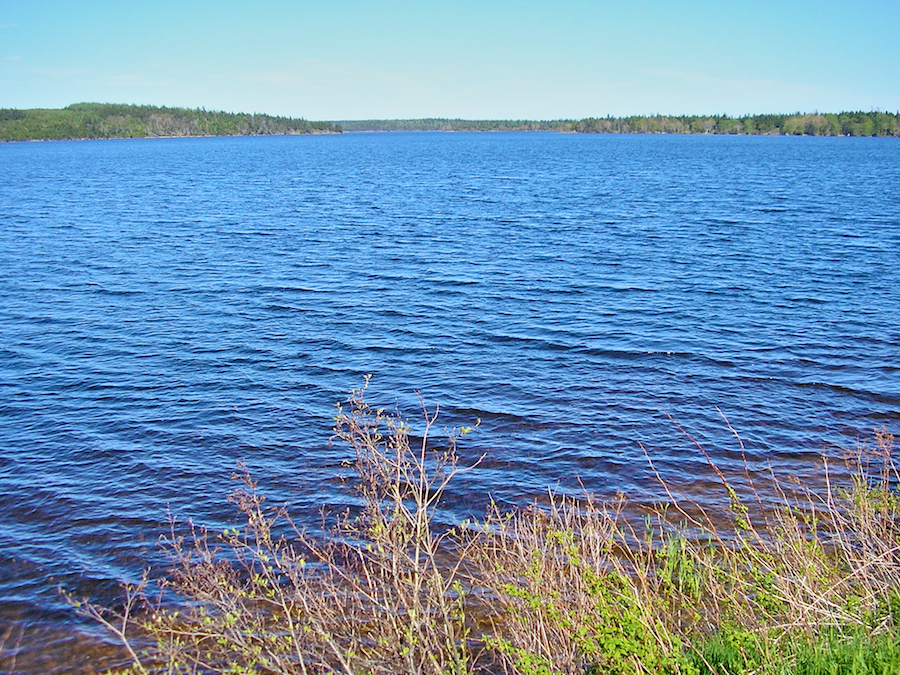 The first instalment of this three-part essay ended in Fourchu on northern Richmond County's Atlantic coast. Continuing north of Fourchu on the Fleur-de-Lis Trail, one crosses into Cape Breton County only 4.2 km (2.6 mi) later. At this point, the Fleur-de-Lis Trail, here also known as the Fourchu Road, parallels the coast about 1.6 km (1 mi) inland and continues on this course for another 7.4 km (4.6 mi). Then, the peninsula containing the Gabarus Wilderness Area begins jutting eastward into the Atlantic, while the Fleur-de-Lis Trail veers first west, then north, and finally east circling around Gabarus Lake before arriving at Gabarus on the Atlantic Ocean. 11.4 km (7.1 mi) north of the county line, one finds oneself at the junction of the Fleur-de-Lis Trail and the Grand Mira-Gabarus Road in the hamlet of Gabarus Lake, near which junction this photo looking eastward across Gabarus Lake was taken.
The land in the far distance is not the far side of this beautiful lake, but instead the shore of a peninsula which nearly divides the lake in two; the two parts are connected by a small strait not visible in this photo that winds behind this peninsula. Thus, this lake is considerably larger than it appears here. The outlet of Gabarus Lake is through a narrow passage to the southeast into Belfry Lake which in turn empties through Belfry Gut into Fourchu Bay.
As can be seen in this photo, the wonderful weather which had held throughout this day was still magnificent at 16h30, when this photo was taken. I would have loved to have lingered here soaking in the gorgeous views this lake supplies, but it was getting time to find lodging for the night and a good meal, so I continued on to Louisbourg taking the Grand Mira-Gabarus Road, not the quickest way of getting there, but one of three possible routes, all three of which I explored in full during this and the following day. In this essay, lest I leave you confused by my peregrinations, I am going to depart from my actual itinerary and instead present the area from south to north, first along the Fleur-de-Lis Trail and then along the Mira River valley. So, in this essay, even though I actually visited Gabarus the next day, I will now continue north on the Fleur-de-Lis Trail to Gabarus, a distance from the junction of the Grand Mira-Gabarus Road of 8.9 km (5.5 mi).