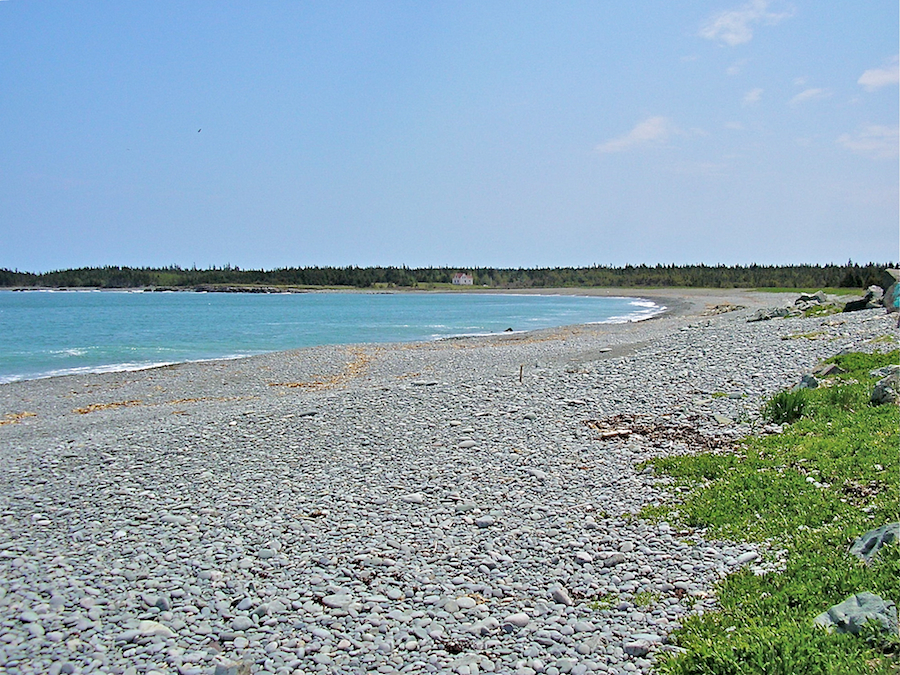 The view to the south from MacGillivrays Cove in photo #1 shows Reids Cove, formed where the crescent turns to the southeast. The amazing thing here is the quantity of cobblestones—far more than on any other Atlantic coastal beach I have seen in Cape Breton.
A promenade at the top of a heavy wood-and-creosote protective barrier perhaps 4 m (12 ft) high, a portion of which is seen in photo #2 from below and behind, runs behind MacGillivrays Cove; it is just outside the scope of photo #1 at the far right. In places, the cobblestones are piled one atop another nearly up to the top of this barrier, making an impressive cobblestone mound indeed! On this idyllic day, there was some surf, but it was warm and very pleasant; one can only imagine what fury must be necessary to cause the winds to churn the water to the point that it can throw up heavy cobblestones of the size seen here and stack them up to such a height! (The huge boulders one sees further down the beach at the right of the main photo are not, of course, cobblestones, but are similar to those behind the barrier (and seen in breakwaters all over Cape Breton Island), which are used to anchor it and give it stability; I do not know how these boulders came to be on the other ("wrong") side of the barrier.)
There is some sand mixed in with the cobblestones, particularly as one gets close to the water well down towards Reids Cove, but this beach is very different from the sand beaches seen in Richmond County and not an easy one to walk on. It was, nevertheless, a great place to be on this day and I enjoyed my time here in the sun tremendously. The views are lovely from every vantage point along this shore!