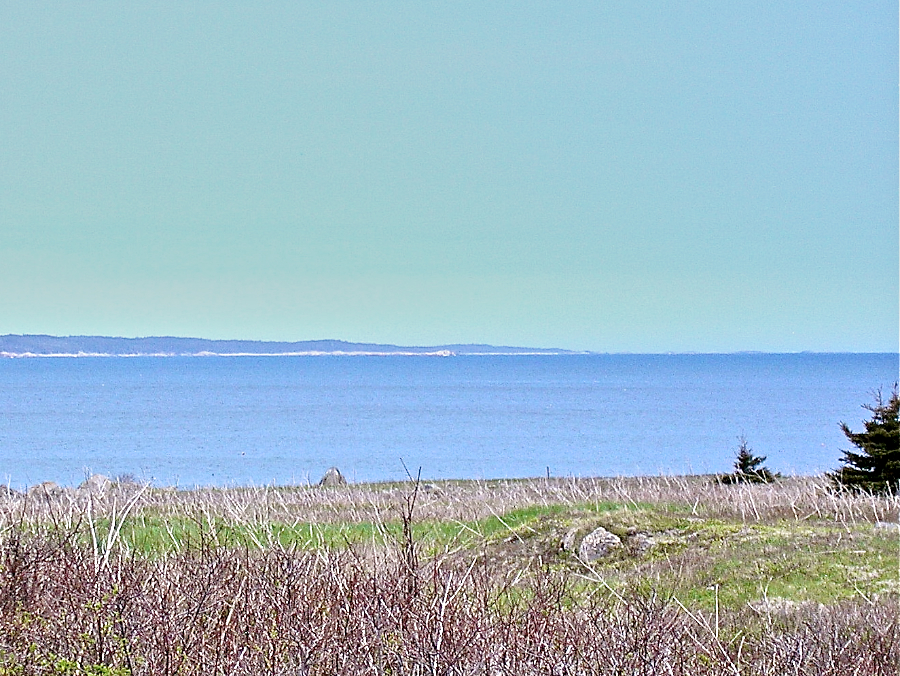 The village of Gabarus sits alongside a sheltered harbour, the entrance to which is to the west of Rouses Point and parallels the aforementioned heavy wood-and-creosote barrier. That harbour, known as the Barachois, is formed by a peninsula further to the west that ends in Harbour Point, from the north end of which this view, looking east along the Gabarus Bay coast towards Louisbourg, was taken not far from the lighthouse.
The striking white of the cliffs under the bright sun along the north side of Gabarus Bay is the first thing to take the eye in this beautiful view. It is along this storied coast at Kennington Cove that, first in 1745 and again in 1758, the British landed forces that both times led to the fall of Louisbourg. The Wikipedia articles for the 1745 siege and for the 1758 siege both give brief, but good, descriptions of the action along this coast. The second siege, of course, overcame the heavily outnumbered French forces and led to the final surrender of Louisbourg and the end of French rule in Atlantic Canada. For a much more detailed description, see Peter Landry's excellent The Lion & The Lily web site and its parts 4 and 7 (if you explore this site, you may be presented with an introductory photo—click on the photo to continue to the text: this wasn't immediately obvious to me, as no text accompanies the photo to so indicate).
As best as I can make out, Kennington Cove lies near the centre in this photo where a large blob of white can be seen at water level, which I take to be the Kennington Rocks shown offshore in The Nova Scotia Atlas. The fortress of Louisbourg is not visible here, but the entrance to Louisbourg Harbour lies, I believe, on the far shore above and somewhat to the right of the rock one sees in the field about a third of the way in from the right. A tiny speck of white, just barely visible here, that lies on the far shore about half way between the rock and the smallest evergreen tree is, I believe, Louisbourg Lighthouse. And, above the smallest evergreen and to its right on the far shore one can see (barely here, but more clearly in the original) two headlands that lie further down the shore, perhaps at Big Lorraine and Little Lorraine.
What lovely views in all directions does this beautiful site at Gabarus offer!