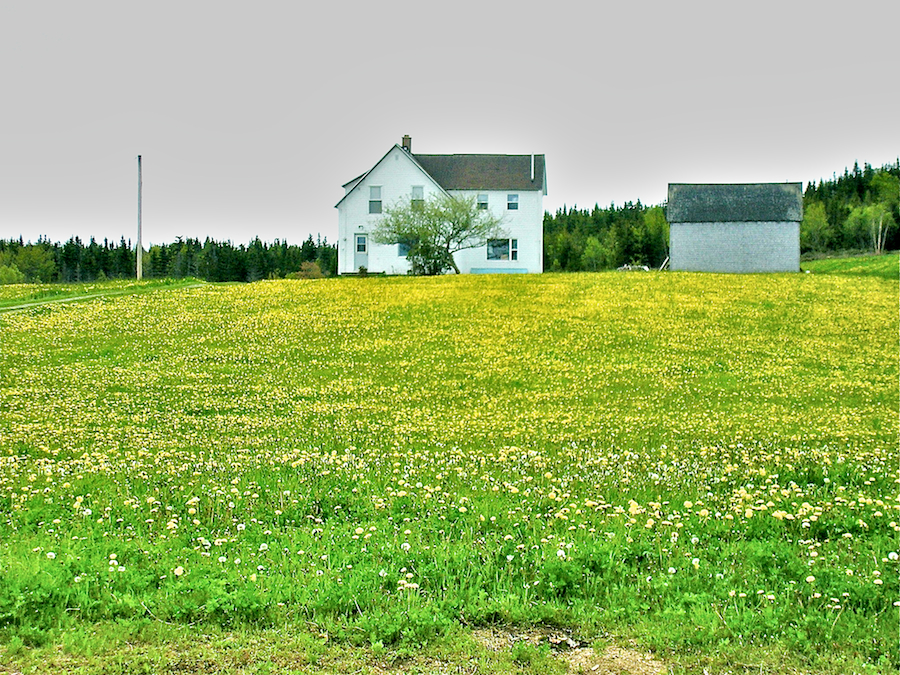 As I continued on along Highway 327 driving north towards Marion Bridge, I came upon this lovely lawn ablaze in a glory of dandelions. Not only this lawn, but the adjacent fields were just blanketed with blooms. I know that many people hate dandelions, but I have long admired them as a harbinger of summer and always rejoice in seeing them. I remember seeing fields as covered with dandelions as this lawn is when I was a lad in northern New York State, but in these so-called "civilized" days, it is very unusual to come across a place where they are allowed to thrive and prosper as they have here, so I stopped and took this photo.
The blue skies over the Atlantic at Gabarus had yielded to generally overcast conditions here inland (in another photo of this beautiful scene, there is still some blue sky to the left of the house), so the light doesn't really do this scene justice and my camera didn't capture the radiance of the scene that I recall so vividly when I look at this photo. But, even so, notice how intense the greens of the grass in the foreground are even in the absence of bright sunlight, then extrapolate that brilliance to the rest of the scene, and you will have some idea of the richness of what I saw.
This web site has an excellent discussion of when and how to collect dandelion leaves for a "mess o' dandyline greens", as we referred to the dish many years ago; it also suggests other ways of using the plant as food and concludes with a funny story about what happened to the author in Central Park. Recommended reading!