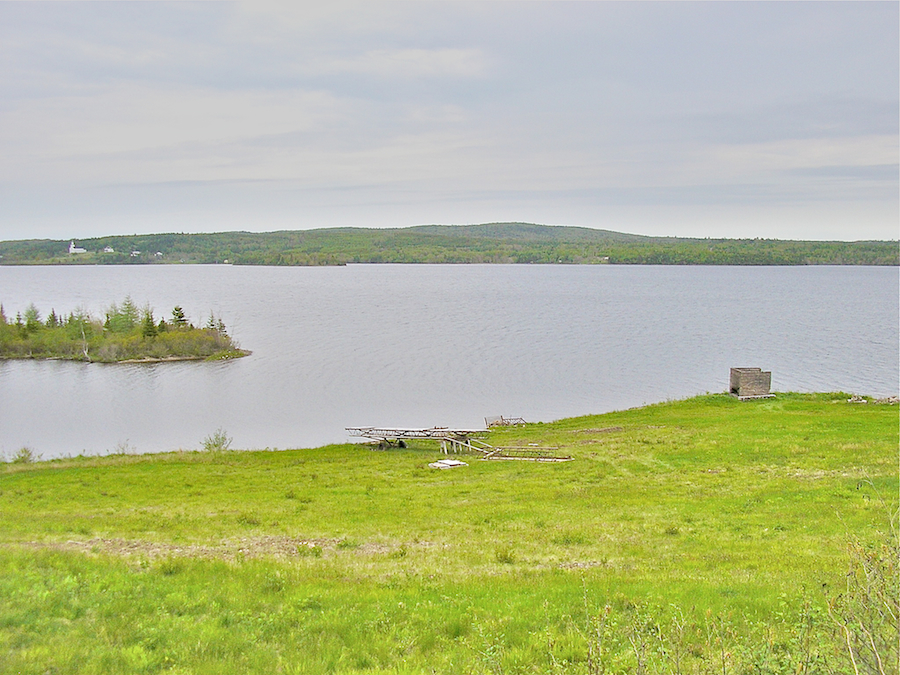 This day began with a clear bright blue sky at Louisbourg, but later switched back and forth between overcast. The first overcast period occurred while I was proceeding north on the Grand Mira North Road just after leaving Marion Bridge, with the result that my photos from there lack the sparkle of those taken elsewhere. At this point in my travels, the sun was playing hide 'n' seek, but not long thereafter the sun chased the clouds away completely about the time I made my U-turn at Middle Lake and started back south along the Grand Mira North Road; it stayed out in force at Gabarus, but by mid-afternoon the clouds started to return and the skies became overcast by late afternoon and remained so for the rest of the day as I travelled along the northern stretches of the Mira. Given the number of wonderful photos I got during this day, I'm not about to complain, but I do apologize for the comparative dullness of this photo (and a few others taken under the same conditions later in this essay): the river here would sparkle and show off this landscape's exceptional beauty under a more congenial sky.
The church at the left of the photo is St Margaret's in Grand Mira South, from which the previous photo was taken. The mountain in the centre of the photo is the aforementioned Gillis Mountain. The point at the left of the photo encloses a small cove and is attached to the land one sees in the foreground. I have no idea what the structure in the right foreground is nor what the purpose of the materials to its left might be. Note that the road here is well above the water level—look at the trees on the point to get an idea of how high it is.
On the other side of the river to the right of the church and left of centre in the photo is what the Nova Scotia Groundwater Interactive Map identifies as Archies Island. To the right of this photo and outside its scope, but easily visible from this vantage point, one can see Alex Gillis Island sitting in the middle of the Mira; it divides the river's flow into two channels.