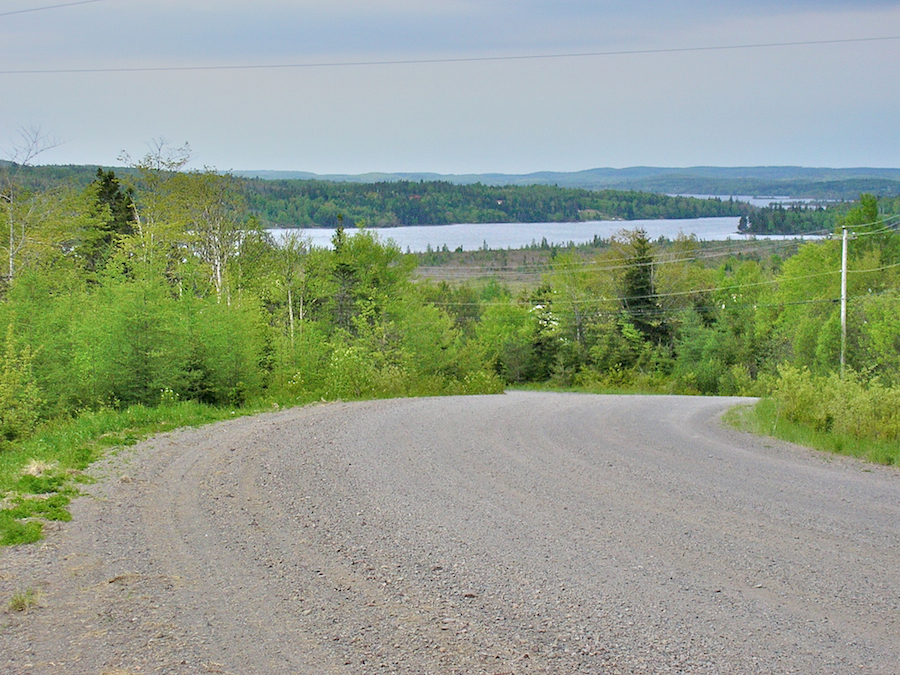 From trunk Highway 4 a short distance northeast of the community of East Bay, Morley Road runs across the East Bay Hills and the aforementioned unnamed mountain range northwest of the Mira River to the Grand Mira North Road, at which it ends 2.9 km (1.8 mi) west of Marion Bridge. If one is travelling to Louisbourg from the west or the south, Morley Road cuts off a significant amount of driving and traffic (the alternative is to continue north to Sydney and then double back southeast to Louisbourg). While it is a gravel road, it has been in very good condition each time I have driven it and it passes through quite pretty country. As one descends the unnamed mountain range to the Grand Mira North Road, it offers this fine view to the south of the Mira River valley and the mountains through which the river flows. Unfortunately, an unavoidable mass of utility wires somewhat spoils the vista, but with a bit of patience one can at least arrange to get them out of the river and the distant hills.
In this view, the river flows from right to left; the arc the Mira forms as it bends to the northeast from its heretofore mostly northern flow is obvious. It will narrow further as it nears Marion Bridge, after which it will again widen considerably as it continues on a northeasterly course until it reaches Mira Gut, where it turns to due east just before entering the ocean.
Situated near the remotest part of the Mira visible in this photo, Two Rivers Wildlife Park is a private park (open year-round except on Christmas Day) managed by a non-profit community association; nominal admission is charged. This is an ideal destination for a family with younger children, offering a wide range of activities involving the numerous species of native wildlife and birds at the park. It is 6.1 km (3.8 mi) south of Morley Road (turn right at the bottom of the hill) and 9 km (5.6 mi) from the junction of the Grand Mira North Road and Highway 327 in Marion Bridge.