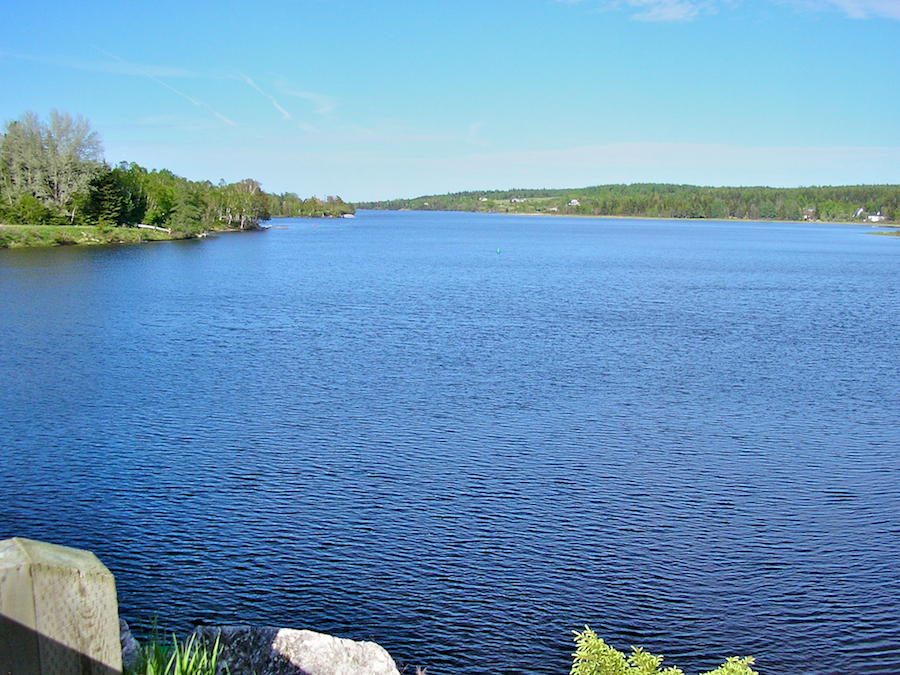 Before Marion Bridge, the Mira has narrowed to the width of the bridge which has given this community its name, though the current concrete highway bridge, dating from 1982, is not the eponym. Beyond this bridge, the Mira again widens out to the lovely view one has here.
Here, the character of the river itself has changed; whereas above Marion Bridge one saw occasional dwellings dotting the shores at more or less regular intervals, at and below Marion Bridge, homes and cottages generally line the banks. The Wikipedia article for Marion Bridge lists its population in 2001 as 1,711, but much of that has to be along the adjacent banks of the river as the community itself can not be that large; this web page lists its population as 400 and this one¹ gives it as 315, both of which seem much closer to the mark for the village itself. But there is no question that the roads on both sides of the river here, Hillside Road on the north and Trout Brook Road on the south (which the Fleur-de-Lis Trail follows towards Albert Bridge), are much more populated than either the Grand Mira South or the Grand Mira North roads. This is clearly the cottage country of the urbanized northern part of the county (Sydney, 15 km (9 mi) to the north, is but a few minutes away on Highway 327) and there are lots of people about in the summer time.
Who does not know Allister MacGillivray's beautiful Song of the Mira? It very much captures the spirit of this lovely place, which still celebrates an annual country festival, the Mira Gala, a simple celebration of concerts, dances, socials, flea markets, boat parades, races, and the like staged by local volunteers for former residents and tourists.
---
¹ This link is to the Wayback Machine archive, as the material is no longer on-line where I originally found it; the current version of this information, now located here, omits the population of Marion Bridge altogether.↩