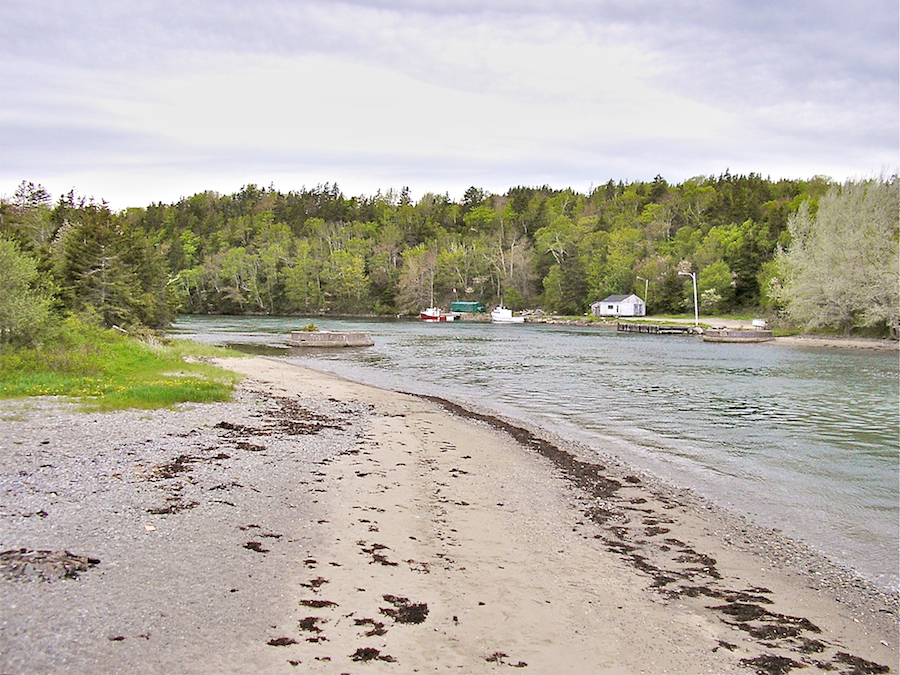 This photo is from very close to the mouth of the Mira River, looking upriver into the Mira Gut, which almost immediately twists to the left (southwest). I regret that this is as close as I got to the narrow passage through which the Mira empties into the ocean; neither Brickyard Road nor Hornes Road affords any views of the gut itself. This web site offers (at the bottom of the page) a photo of Mira Gut a bit further upriver.
The two cement podia one sees in the water mark the site of the railroad bridge that once connected the coal mines of the Sydney area to the port at Louisbourg (Sydney's harbour was frequently blocked by heavy sea ice during the winter months when coal shipments were at their highest, while Louisbourg's harbour was ice free in the winter); the Sydney & Louisburg Railway Museum in Louisbourg¹ offers exhibits that bring this formerly important railroad back to life.
I do not know what kind of tree the one at the far right is, but it appeared to be nearly white; there were others in this area that show the same very pale colouring. I assume that this is again a sign of its early foliage and that it will have turned greener later on.
---
¹ The railway is spelt as "Louisburg", reflecting the contemporary spelling of the village's name. This note from the Sydney and Louisburg Railway Historical Society web site (courtesy of the Wayback Machine archive, as the original site no longer exists) explains: "The 18th-century French spelling of the community was Louisbourg. This changed in the 19th century to Louisburg and the Town was incorporated in 1901 with that spelling. Increased awareness of the historical significance of the community led to the Post Office reverting to the French spelling in the early 1950s and the Town Council following suit at about the same time. Unfortunately, the Town Hall fire of 1982, and the resulting destruction of the Minute Book for that period, means that the record of Council's decision is lost. The name was changed officially by an act of the Nova Scotia legislature on 6 April 1966." The local English pronunciation of both "Louisbourg" and "Louisburg" is as if they were written "Lewisburg".↩