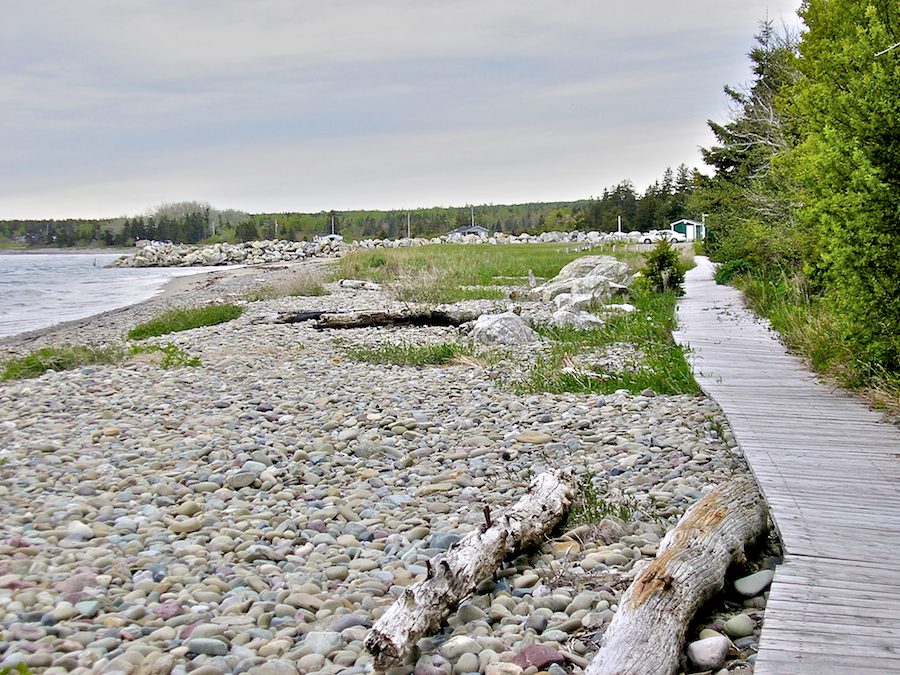 This view from the boardwalk at Mira Gut Park shows the mouth of the Mira River protected by its breakwater. The "beach" on the north side of the river is as you see it here, largely cobblestones with a sandy margin next to the water. On the south side of the river, however, the beach is quite different, offering a good stretch of white sand with some intermixed gravel, but nary a cobblestone in sight. The water at the left is Mira Bay, an arm of the Atlantic Ocean; expansive views of its beautiful shore line are available from the park.
Note again above the left end of the breakwater a stand of trees bearing the same very pale foliage seen at the entrance to Mira Gut.
With this photo, this second instalment of the three-part series on Cape Breton's East Coast comes to an end. "Can you imagine a piece of the universe more fit for princes and kings?" While Allister MacGillivray's words were for the Mira at Marion Bridge, they apply equally to the area from Gabarus to Grand Mira to Marion Bridge to Albert Bridge to Mira Gut and, indeed, to literally hundreds of places all over Cape Breton Island, a place of amazing and varied beauty. I hope you have enjoyed this selection of photos from this beautiful area and that they will encourage you to pay it a visit. I know I am certainly planning on visiting it again soon!