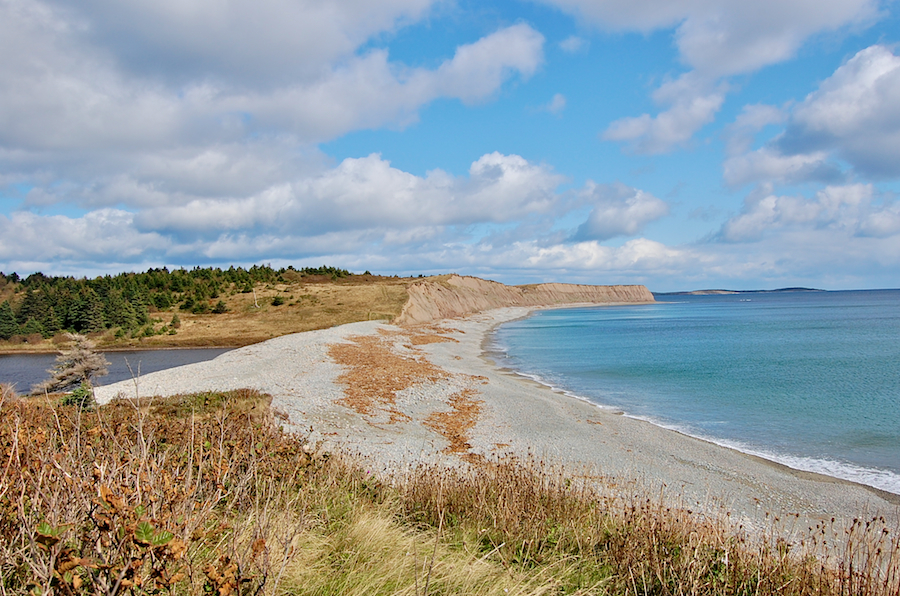 During my spring trip, I had discovered Morrisons Beach, from which I had seen Red Cape from the east side of the Framboise River. It was obvious from this gorgeous site that the views from the top of Red Cape would be as superb, so I added it to my list of places to explore.
By the time I reached Red Cape, the weather had improved significantly and the sun was out though, as this view shows, the clouds were still very much a presence, even if now much more benign. Hidden behind Red Cape in this view, the Crooked Lake Road ends above the beach; it takes only a couple of minutes to walk up to the top of the cape, whose height I'd guess from the topographical maps to be 15-30 m (50-100 ft). The views from there were as fabulous as I had expected, and in all directions. An ATV trail crosses the grasses on top of Red Cape quite close to the cliff (in one place, erosion has eaten away part of the trail, so be careful!) and down to the cobblestone barrier one sees to the right of English Pond at the far left. It continues only part way up the hill on the other side, from which this eastward looking view was taken; further progress to the west requires either bushwhacking or taking the beach route, which leads out to Marie-Joseph Gut, the outlet of the Marie-Joseph Brook, an area I did not explore. There are almost as many and as deep cobblestones here as at Gabarus! I did walk the shore back to Red Cape; it was very tiring because I find it very difficult walking on unstable cobblestones. But the views looking up to the top of Red Cape from the beach directly below are stunning and not to be missed! I continued on down the shore, which turns to sand beyond Red Cape, to the mouth of the Framboise River, another gorgeous spot, with Morrisons Beach on the other side of the river, not more than a stone's throw away, though I would have considerable trepidation about trying to wade across the swift current at the mouth, whose depth I was unable to gauge.
Again, the colours are fairly subdued, but the grasses and the bushes have both clearly been damaged by frosts. Red Cape's spring and summer colours, seen in the photo referenced in the first paragraph, are in stark contrast to those seen here!