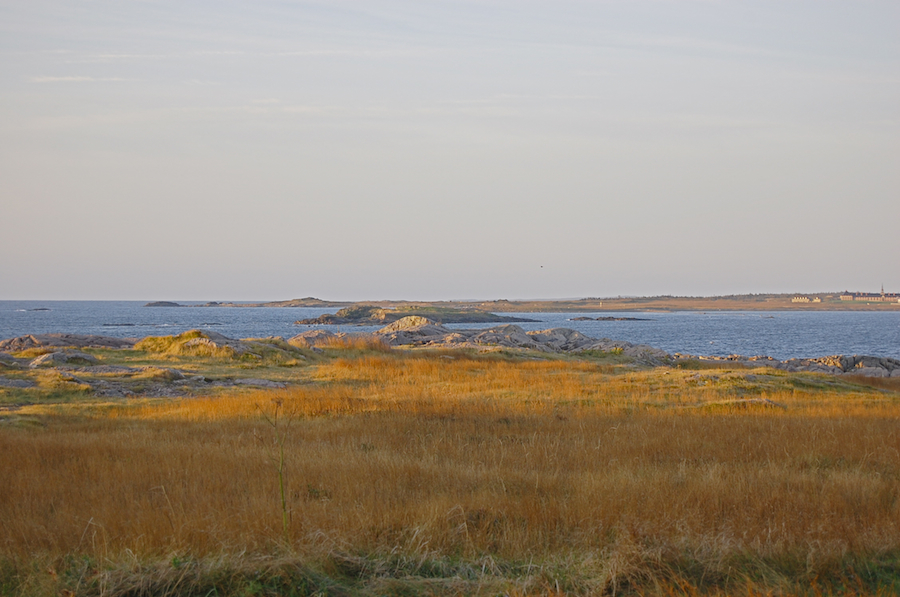 The next morning dawned bright and clear, so I first hastened out to the Louisbourg Lighthouse. The sun was barely above the horizon and cast a golden glow over this wild and ferocious shore, making it appear to be a tamed tawny lion at rest. In fact, a good breeze was blowing off the Atlantic and the surf was crashing pretty spectacularly onto the rocky shore to the north.
This view along the coast to the southwest shows the entrance to Louisbourg Harbour with its rocky islands in the middle. A part of Fortress Louisbourg is at the far right of the photo, gleaming gold under the early sunlight. The fall colours in the grass in the foreground are enhanced by the golden sun where it falls upon them.
I had not been here in a couple of years and had not planned on spending much time here—just a quick early morning visit before the restaurants opened for breakfast at 8h—but I discovered that a new trail, the Louisbourg Lighthouse Trail, was under construction here. That certainly got my attention and piqued my curiosity, so I decided to see where it led. I hiked it to its end and, using unsigned footpaths, continued along the shore to the northeast in the direction of Big Lorraine, stopping when it became clear I was going to miss breakfast if I did not turn back. Clearly a work in progress (though the sign said it was supposed to have been done in July), it is already a beautiful trail, with boardwalks over boggy spots, but only a large crushed stone base has been put down in most places and the remainder is a bit muddy/mucky because no foundation has yet been laid. On my return back, I had a chance to chat with one of the ladies on the construction crew, who was enthusiastic about her work along this gorgeous shore. Undertaken by a joint effort of Service Canada, the Province of Nova Scotia, the Fortress of Louisbourg Association, the Louisbourg 1995 Society, the Louisbourg Merchants' Association, and the Cape Breton Regional Municipality, this promises to be a fine trail for everyone to enjoy; I look forward to seeing it again next year when I hope to make it all the way to Big Lorraine, though the Louisbourg Lighthouse Trail itself will stop, at least according to its currently staked path, about a third of the way there.
[2012] The Louisbourg Lighthouse Trail is now complete and in superb condition; it is a beautiful hike. See this web page for a description of my hike from the northern part of the finished trail out to the Eastern Point of Lorraine Head, a highly recommended way to spend a bright, sunny day in Louisbourg! The rocky coast between Louisbourg Lighthouse and Big Lorraine is absolutely unforgettable!