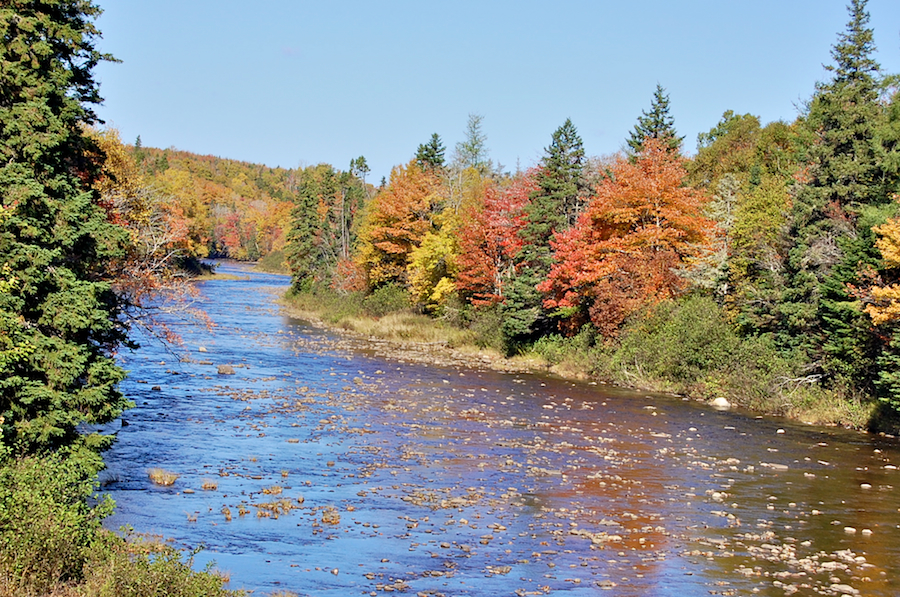 The Southwest Mabou River is one of Cape Breton's most accessible and beautiful rivers: a long section of the Railway Trail (from Mabou to Glencoe Station) runs along or near the river and the views there are always great. Unfortunately, my schedule and the weather prevented me from hiking it this fall, though I did most of this section on a gorgeous day this spring. See this photo essay for several views of and more information about this lovely river.
But the Railway Trail is not the only access point to the Southwest Mabou River: there are fine views of the river's mouth from the West Mabou Road and from Hunters Road in West Mabou; the Cèilidh Trail (Highway 19) bridge over the Southwest Mabou River in Southwest Mabou offers nice upstream and downstream scenes as the river traverses fields and forests; the bridge over the river on Morans Road (off the Upper Southwest Mabou Road) offers fine views of the river as it flows through the forest; and there are great views at Long John's Bridge in Upper Southwest Mabou, of which this is one.
The colours of the trees here are just fine by themselves, but this photo reminds one of how essential the colour blue is to a beautiful fall scene: the blue sky, and especially one reflected in the water below, contributes to the whole in a way that is somehow far more satisfying than one with no blues at all.