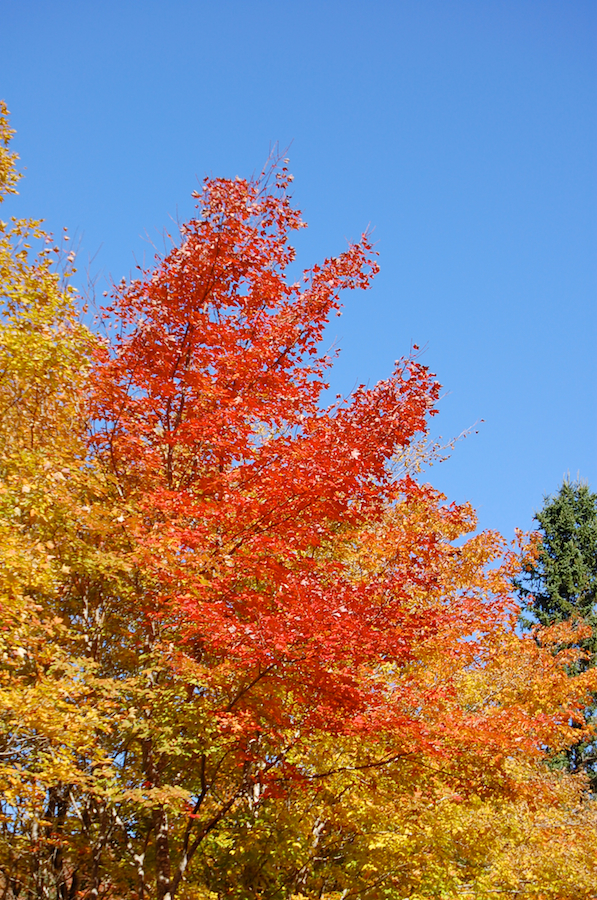 The red tree on the Mull River Road to which I awarded "first prize" last fall earned it again this year; it was still the single most beautiful red tree I saw anywhere in Cape Breton. But, since it looks this year very much like it looked last year, I decided to omit it from this year's essay. In its place, I have chosen this tree, surrounded by golden neighbours, which, though of a slightly darker red than the first prize tree, is nevertheless stunning, especially against the blue sky of this marvellous day. There were several other red trees of the many I photographed this fall that were equally pretty, but it's necessary to choose and this one got the nod.
This tree is on the Whycocomagh Road before it descends to the bridge over Kewstoke Brook. If you have never driven this road on a day such as this one, you should, as there are many great fall views to be had all along its route. This year, with the extra-spectacular colours, this drive was simply fantastic.
I had such a great time taking pictures along this road that I completely lost track of the time. I had intended to return to Mabou for the incredible Thanksgiving Dinner the community puts on in the hall across from the Red Shoe. When I finally looked at my watch, I was outside Whycocomagh with just barely enough time to make it to St Anns for the Pipers' Cèilidh at 14h and so had to forego the great dinner I had last year. The many photos I got this fine day were partial recompense, but my stomach regretted that I had not kept better track of my time.