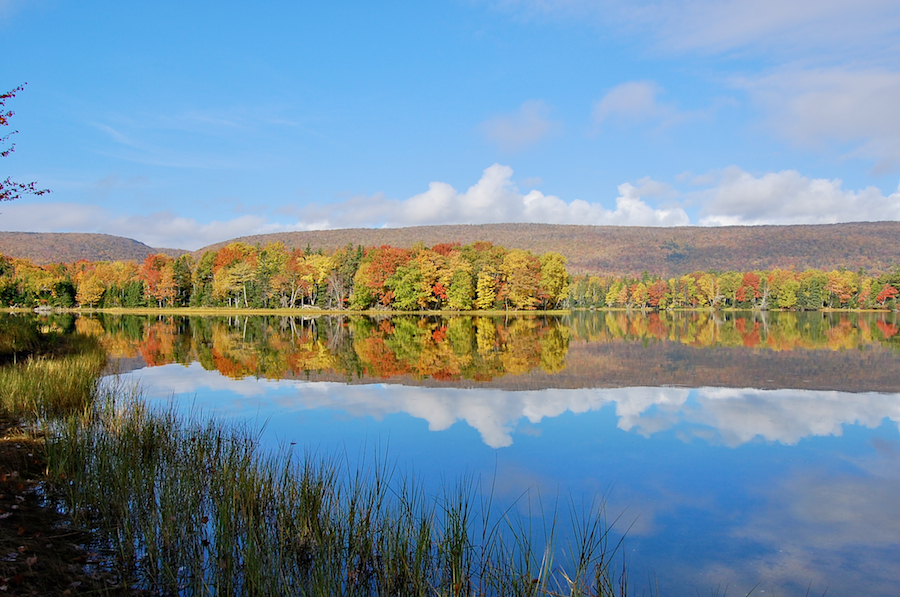 Tuesday started very foggy, but the morning and early afternoon turned out to be nearly as fine a day as Sunday once the fog lifted, though there were more clouds and it later became overcast. I decided to explore the Cabot Trail in the St Anns area, to which I had not been in the fall in a couple of years.
On my way, I took several photos of the mountains along the Trans-Canada Highway (Highway 105) near Exit 6 (the fog was still on Whycocomagh Bay as I was passing by) and, drawn by the spectacular colours on the trees along the road, decided to run down to the ferry at Little Narrows, only a couple of minutes from the Trans-Canada Highway. The ferry landing is a beautiful place in its own right, with views both of Whycocomagh Bay and St Patricks Channel, a beautiful church, and the constant coming and going of the ferry to liven things up. I had been here many times before, but had never noticed a picnic table in the middle of the woods adjacent to the parking area. I strolled down there and then on to the shore beyond and discovered the beautiful cove, unnamed so far as I can determine, that one sees here, to which I had been perfectly oblivious previously.
The mountains in the distance are those below which the Trans-Canada Highway (Highway 105) runs; as so many "mountains" in Cape Breton are, they are really just the edges of a huge plateau, in this case one that runs from Whycocomagh to Scotsville. Their colours appear mottled here, but close up were a blaze of mostly golden colours with frequent reds and oranges and limes and lemons and greens amidst the golds, very like the ones one sees here along the shore and reflected in the waters of this tranquil cove. I am not quite sure why the compression has had this effect, but the reds here are not as bright as they are in the original; they were certainly spectacular to the naked eye.
[2012] The mountain at the far left of the photo is Lewis Mountain; that occupying most of the rest of the photo is Northside Mountain. In the gap between the two, Lewis Mountain Road ascends along MacPhersons Brook to the summit of the plateau; see this web page for fall photos from Lewis Mountain Road and this web page for information about the hike.