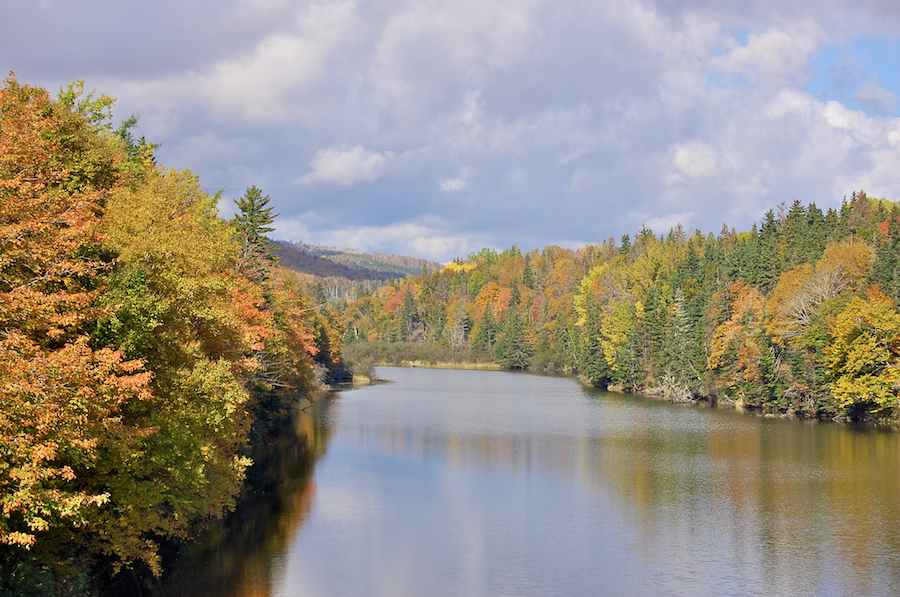 The Middle River area had not turned quite so much as the area at Whycocomagh and Little Narrows, but it too was in the process of changing rapidly. This view of the river from the bridge on the Trans-Canada Highway (Highway 105) looks upstream to the hills beyond, alas with enough angry clouds now in the sky to turn most of the waters a steely grey, though the sun can still be seen shining on many of the trees.
The Middle River is sandwiched between the West Side Middle River Road and the Yankee Line Road, both of which join the Trans-Canada Highway close to the bridge from which this photo was taken, and both of which come out on the Cabot Trail, the former north of the community of Middle River and the latter at the foot of Hunters Mountain. The views of the river itself are better from the Yankee Line Road, while the West Side Middle River Road has some fine views of the mountains. If you have not yet explored this area, add it to your list of places to see—the views of the river, mountains, forests, and fields make it a fine excursion.
There were equally fine views of the Baddeck River and Nyanza Bay from the Trans-Canada Highway bridge over the Baddeck River; of St Patricks Channel, the Washabuck Peninsula, Beinn Breagh, the lower end of Boularderie Island, and of the Great Bras d'Or Lake from the Trans-Canada Highway west of Baddeck; and of Baddeck Bay from just past the look-off on the Trans-Canada Highway east of Baddeck. Regrettably, I did not have room in this essay for any of the photos I took at each of these locations on my way to St Anns, but they are all grand views.