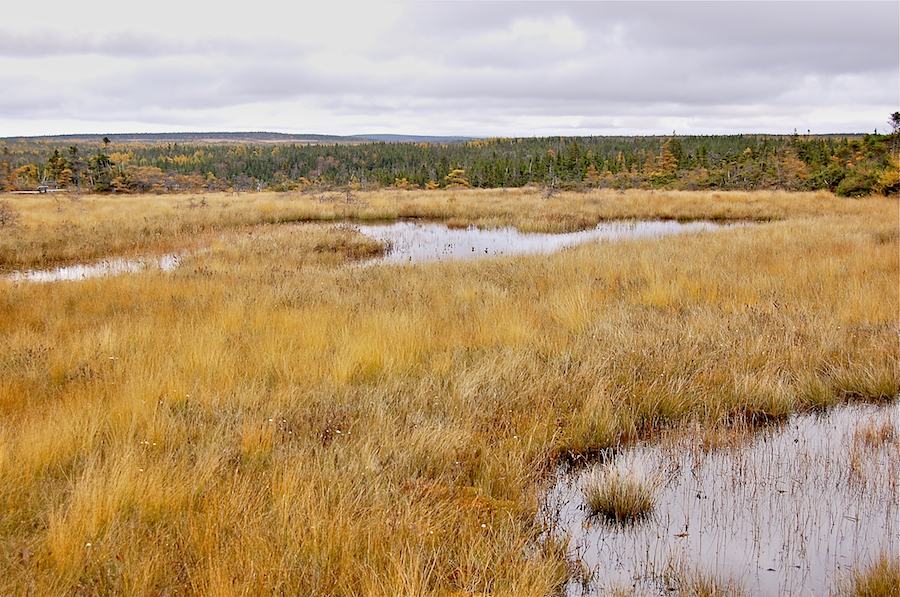 The Bog (La Tourbière) is one of Parks Canada's expository sites: situated on the plateau at the top of French Mountain, it consists of a wheel-chair accessible boardwalk following the perimeter of a highland plateau wetland (it's at 410 m (1,350 ft)), along which are found numerous information-packed interpretive panels explaining the ecology of a highland bog and calling attention to the flora and fauna found there.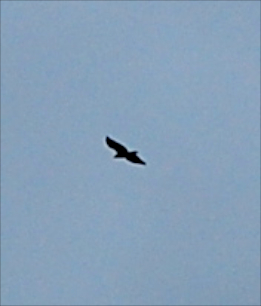 Moose are apparently often seen here, though I saw none this day. I did, however, both hear and see an eagle soaring in the grey sky above (which darkened considerably after the photo of the bog was taken—it started to rain as I left the parking lot); its photo is at the right.
In the main photo at the top, which looks to the northwest, one sees the bog itself in the foreground and, in the distance, the plateau, source of the Fishing Cove River and the South Fishing Cove River, which have carved spectacular valleys through this plateau. If you look at the far left, you will see a small segment of the boardwalk and one of the interpretive panels. At the edge of the bog, you will also notice a number of small trees, some of them golden tamaracks; in the words of one of the panels:
Some Black Spruce and Eastern Larch [another name for tamarack] on the plateau are a hundred years old, yet only one meter (three feet) high.
Poor soils and a cool climate stunt tree growth. So does ice-blasting; strong winds drive snow crystals into branches higher than the snow cover. These exposed branches often die.
Contrast these gnarled and stunted trees in the fen with the taller spruce and larch at the forest edge.