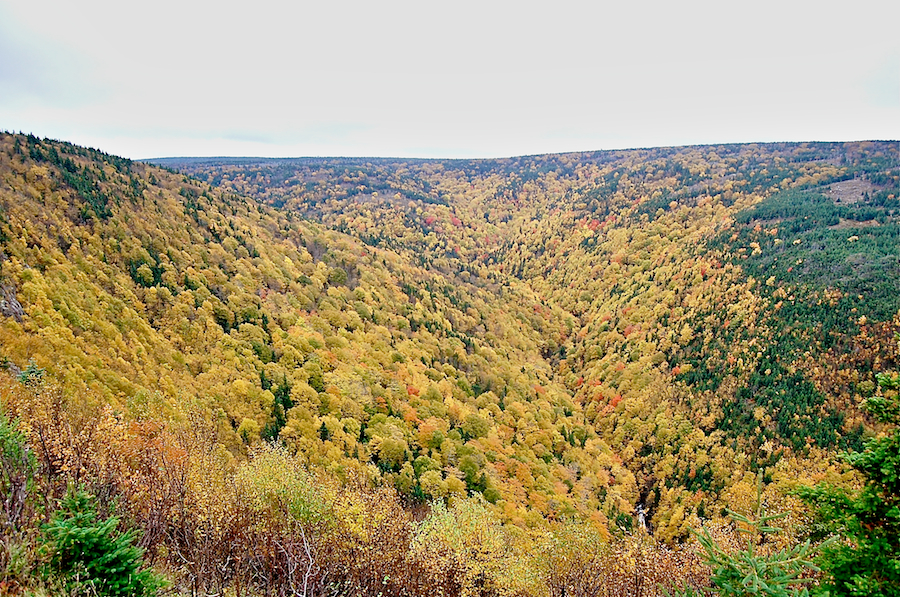 The Fishing Cove River rises on the Cape Breton Highlands plateau to the east of French Mountain and descends 335 m (1,100 ft) through the valley seen in this photo to enter the ocean at the foot of MacKenzies Mountain at Fishing Cove, an inlet of the Gulf of St Lawrence, seen in photo #2. Settled by Scottish immigrants in the early 1800's, the shores of Fishing Cove once held an isolated but thriving community, also called Fishing Cove. Its inhabitants made their living mostly from the sea, fishing lobster and cod, supplemented with what they could raise on the land they had cleared; they traded with the Chéticamp merchants for supplies. A lobster cannery was built in 1897, but by 1915 the community was deserted, except for fishing shacks used by passing fishermen, with its people dispersed to communities in the adjacent area.
Two trails lead down to the inlet; the shorter one (2.8 km (1.7 mi) one-way), which I have hiked, is relatively steep, while the longer one (7.5 km (4.7 mi) one-way), which I have not hiked, follows along the Fishing Cove River valley seen in photo #1. Provided one first obtains the requisite back-country camping permit, it is possible to camp overnight at the mouth of the river on one of the several raised wooden platforms provided for the purpose.
The fall colours tend to be less spectacular along the Gulf of St Lawrence coast because a large number of the trees are evergreens and therefore remain green in the fall. The part of the Fishing Cove River valley seen in photo #1, however, is fairly well protected from direct winds off the Gulf and is home to a large number of deciduous trees. Two years ago (I missed this look-off at the peak of the colours last year), the colours here were primarily dull oranges and yellows and distinctly lacked reds; this year, even on a cloudy day such as this one, there are reds to be seen everywhere in the valley.
Notice the waterfall one sees at the bottom of the photo about a third of the way in from the right edge. None of the trail descriptions I have mentions this cascade, the topographic map does not show it, and I have been unable to locate any other information about it on the Internet. It appears to be of some height from this distance and, with all the rain this year, a significant amount of water was flowing over the lip. It is possible that the trail does not approach the waterfall, but one would think that it would be incorporated into the trail for its scenic beauty. If anyone has information about this waterfall, please let me know at the e-mail address given in the footer.