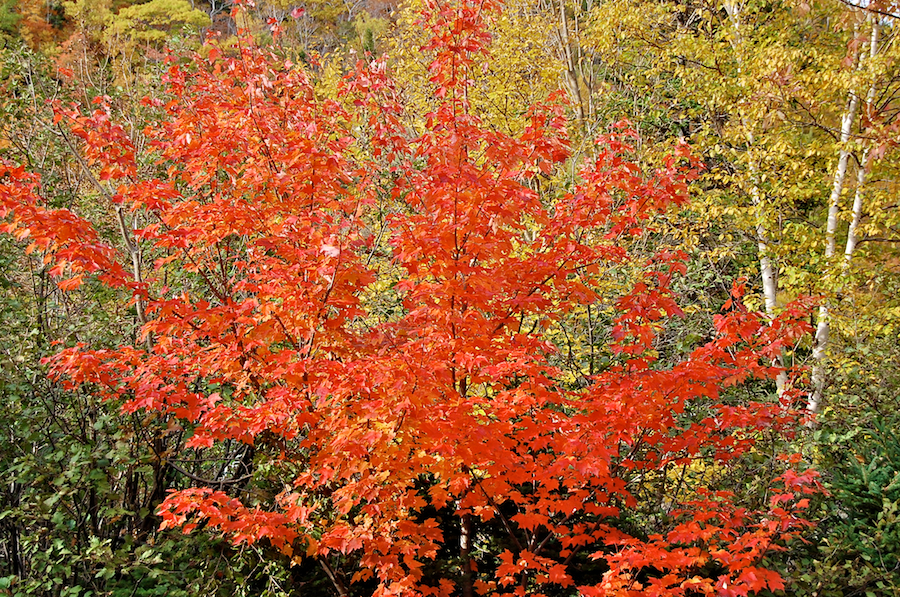 Just as I was leaving the Cape Breton Highlands National Park, the sun, which had mostly been missing in action all day, decided to come out a bit and lit up the lower slopes of the Rigwash à Bernard, the stunning valley at the entrance to the park. Just beyond the permit booth at the side of the Cabot Trail, a road leads to the Chéticamp Campground. Closed for the season, a gate barred access and I did not have time to explore anyway. But, beside the road, catching beams of sunlight, I saw this fine specimen of a red tree.
Although neither the Rigwash à Bernard nor the Chéticamp Campground road is far from the sea, both are well protected from it by the huge hill named Le Buttereau. This doubtless explains why deciduous trees predominate at the lower elevations in this area.
This year there were also glorious colours along the Chéticamp Back Road, which leaves the Cabot Trail at Flora's Gift Shop at Point Cross and traverses Plateau and Belle-Marche to arrive back on the Cabot Trail at Petit-Étang. In addition to having much less traffic than the Cabot Trail through Chéticamp, this lovely road offers fine views of the magnificent mountains at rear of Chéticamp. Alas, each time I was in this area this fall, the sun was absent and the photos I took do not do justice to the colours found there. So this tree will, this year, have to stand in for all the others like it that I was unable to capture well.