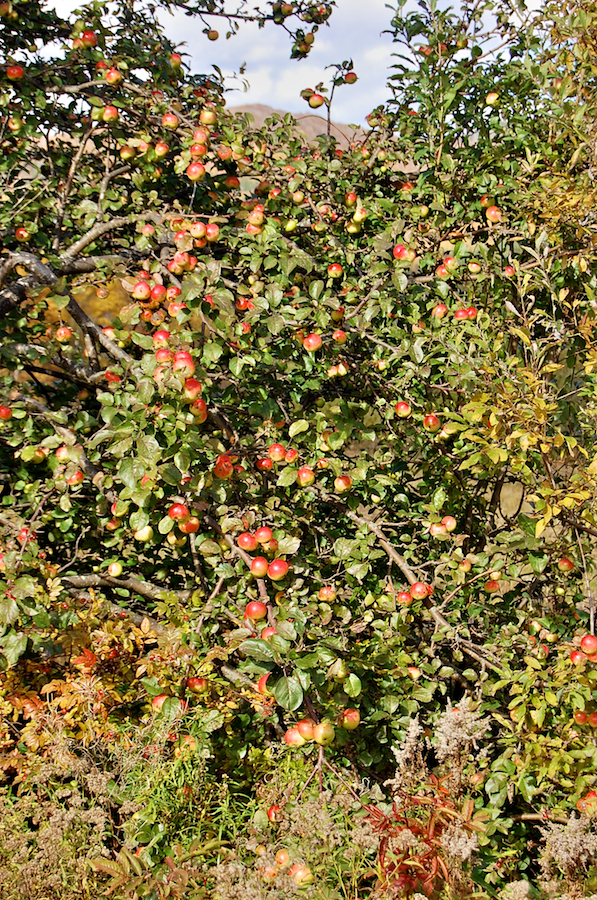 This was an apple year in Cape Breton; trees bearing apples were found nearly everywhere. There are no longer any apple orchards of which I am aware on Cape Breton Island, but there are trees, planted by the pioneers, which have survived the years and still bear their fruit in fall. Many apple trees produce green-coloured fruit, which are not as photogenic as the red fruit that is also very common. I took several different photos of apple trees this fall, but this one, along the Northeast Mabou Road, is the most pleasing to my eye.
It doesn't hurt either that the crest of one of the Cape Mabou highlands can be seen below the clouds in the upper centre of the photo.
I didn't sample the beautiful-looking fruit of this tree, which I imagine would taste as good as it looks. But I do recall biting into the fruit of an equally beautiful tree along MacKinnons Brook Lane in the Cape Mabou Highlands a few years ago at this time of year; it proved to be sour beyond belief and I had to spit it out! As Shakespeare reminds us in The Merchant of Venice (II, vii), "[a]ll that glisters is not gold"! Still, these apples look absolutely luscious!