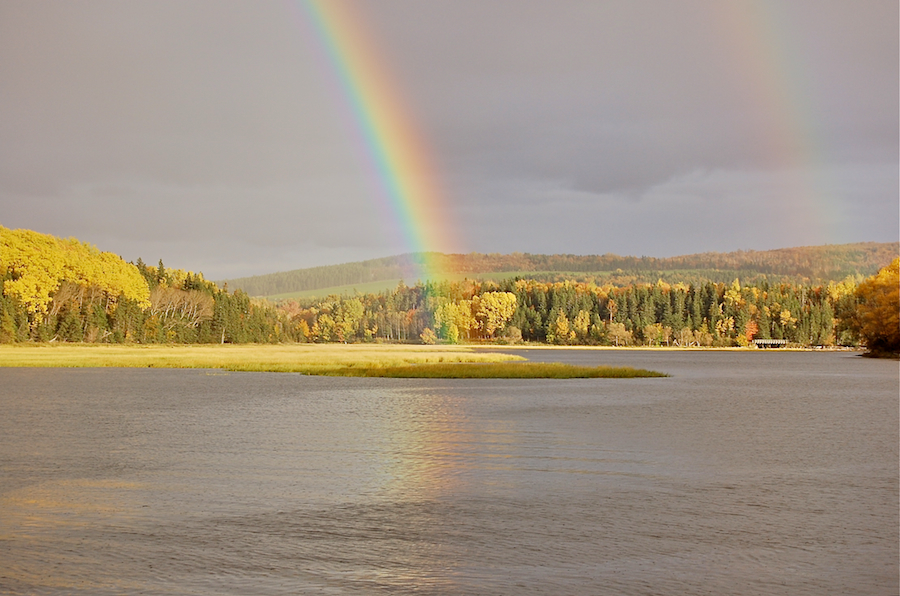 After my last festival concert, in the Strathspey Place, ended on Saturday afternoon, I hastened to make my way to Southwest Margaree for a tribute concert that evening to raise funds for a memorial to honour Angus Chisholm, a concert that proved to be the equal of the best festival concerts. As I was passing through Mabou, having gotten slightly wet in the rain leaving the concert, I noticed a rainbow and stopped at the bridge over the Mabou River.
As I was busy clicking photos, the sun came out brightly, lighting up the trees along the Mabou River. It was then that I noticed that the rainbow was, at least on the right side of the road, a double one! In photo #1, the mirror rainbow is very faint (fainter than my eyes remember it), but it is there if you look for it at the far right.
Photo #2 shows that the rainbow on the left side of the road was only a single one. I was too close to the rainbows to be able to capture both sides of the road in a single photo, but none of the the photos on the left side show the double rainbow. I don't believe I have ever been this close to the apparent end of a rainbow before and the number of double rainbows I've ever seen I can count on the fingers of one hand. So this was truly an unusual sight for me!
Those familiar with this area will recognize the bridge at the far right of photo #1 as one of the five on the section of the Railway Trail that runs from the Cèilidh Trail in Mabou to Highway 252 in Glendyer Station. The views from this bridge are unfailingly beautiful, especially when St Mary's steeple is reflected on the waters of the Mabou River.