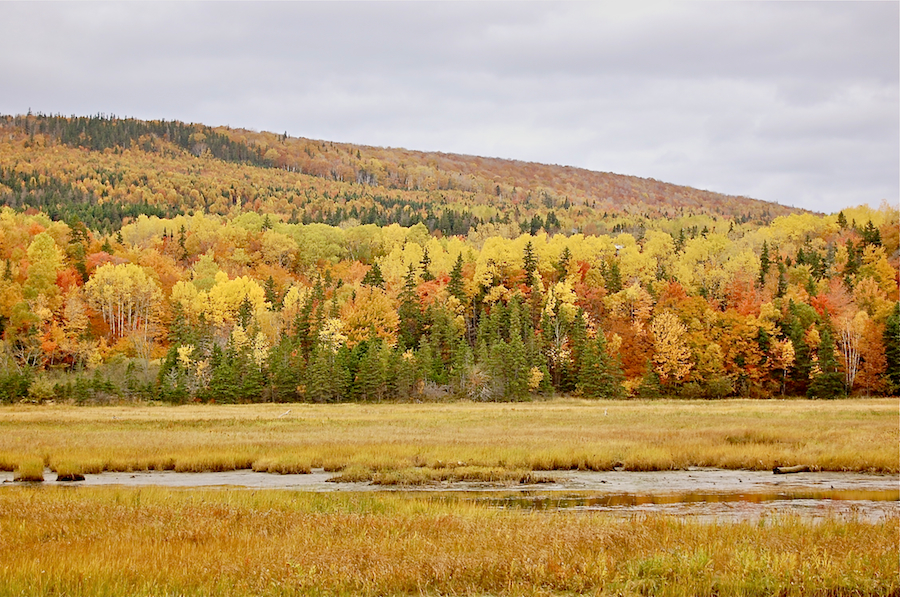 Although the Railway Trail has recently officially been incorporated into the Trans-Canada Trail, I continue to think of it as the Railway Trail because it follows the bed of the former railway that once ran from Port Hastings to Inverness village. Eventually, according to the Nova Scotia map at this web site (double click a few times on Nova Scotia to expand the map), it will be extended from its current terminus in Inverness village to run north of Lake Ainslie to Little Narrows, across the Washabuck Peninsula to Grand Narrows, and on up east of St Andrews Channel to the ferry docks at Sydney Mines. According to this Cape Breton Regional Municipality map, a 7.88 km (4.9 mi) section is currently open in the Georges River area north of Pottle Lake. Over the past few years, a great deal of work, much of it volunteer, has been carried out to transform the old railway bed into a modern, multi-use trail. As photo #2 shows, the latest work done this summer has left it in wonderful shape, with much of its length now ditched, banked, stabilized, given a firm foundation of crushed stone, and covered with a fine packed sand surface that is very easy on the feet.
As this description by a recent hiker indicates, the scenery is varied and beautiful along the Railway Trail's entire length, something I can corroborate from my own experience. The section from Mabou to Glendyer Station along the Mabou River was the first section of the Railway Trail that I hiked and I have walked it, often more than once, every year since. It always radiates a quiet beauty, overflown by eagles who live nearby, and is just a lovely place to walk while watching the river and the sky. In the fall of the year, its protected location below Mabou Mountain makes it home to one of the most amazing displays of colour in Cape Breton.
On this lovely morning, the sun was again playing hide 'n' seek through the clouds above, but was usually so dim that the trees seemed to be lit up by some internal fire. At the time I took photo #1, however, it briefly cast a few rays through the clouds to transform this gorgeous stand of lemon-yellow trees intermixed with all the other fall colours nearby into a blaze of glory.