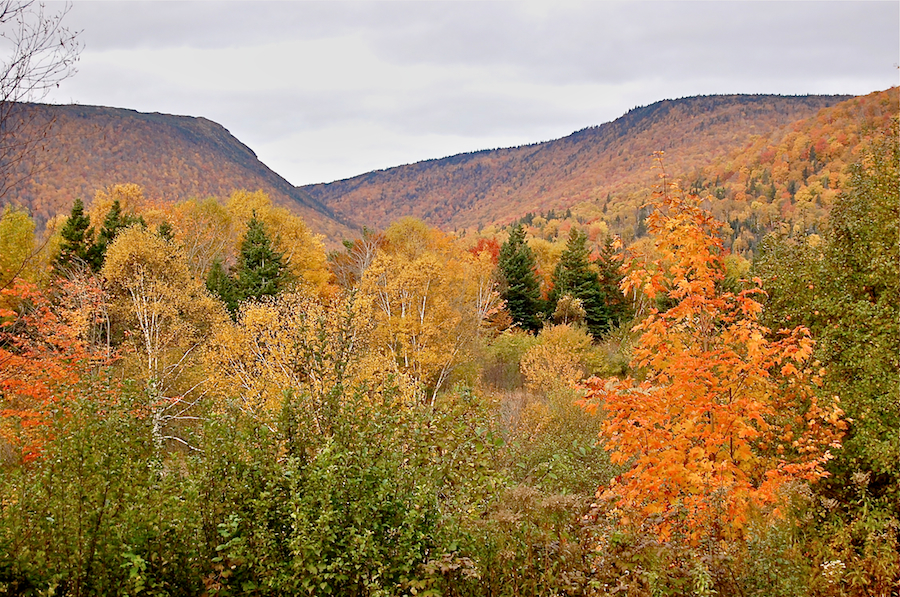 My last full day in Cape Breton, a friend and I drove around the Cabot Trail, proceeding counter-clockwise to take advantage of the light. As it was during the preceding day, the sun was subdued at best, occasionally shining down through a small break in the clouds. Still, the colours of the foliage and the mountains were outstanding against the backdrop of the beautiful scenery of the Cape Breton Highlands.
This view was taken on the Oregon Road north of the community of North River Bridge looking into the valley through which the North River flows. The Oregon Road dead ends at the North River Picnic Park, from which a rugged 9 km (5.6 mi) trail (one-way), that I have not yet hiked, leads to the North River Falls, at 30 m (98.4 ft) the highest in Cape Breton (and in Nova Scotia as well).
In spite of the lack of sun, the colours here were breath-taking, a blaze of all the fall colours. One could only imagine the scene were the sun to deign to light it up even more!