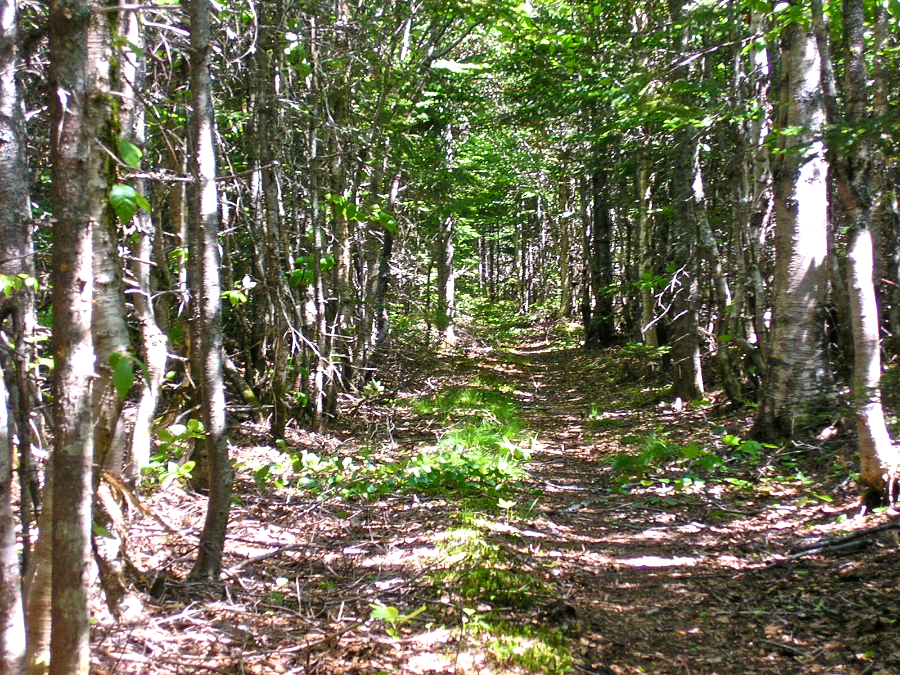 The MacEachen Trail starts at the Cape Mabou Trail Head and runs to Sight Point through mostly forested lands. Taking this trail from the Cape Mabou Trail Head is by far the easiest, though not the shortest, way to Beinn Bhiorach, as the trail runs nearly level through the forest until it joins the Highland Link Trail or the Coill à Bhraighe (Highland Forest) Trail. From there, there's some climbing needed to reach the summit, but much less than via any other route. Ascending the MacEachen Trail from Sight Point involves a hard climb (at least for me); when I go to Sight Point, I usually instead take the MacKinnons Brook Trail along the coast to the Rids an Daraich (Oak Ridge) Trail and return by the Gleann Sidh (Enchanted Valley) Trail, a gorgeous trip.
[2012] The footbridge which allowed passage across the bog immediately below the parking area at the Cape Mabou Trail Head has been wantonly destroyed. This makes crossing the bog impossible without very high boots and, having been stuck in the muck up to my knees, I do not recommend making the attempt. Note that, as of this writing, this trail is still officially closed, though, except for the passage of the bog, it was eminently hikeable in 2010. Instead of attempting to cross the bog, try following the fence along the community pastures; you should be able to see the MacEachen Trail from the fence if you proceed far enough west, as the two run close to each other a few minutes down the trail. According to the topographical map, the old cart road actually started north of the parking lot near where one of the towers now sits and curved to the south before reaching the present fence.
[2014] A new footbridge has been built across the bog at the Cape Mabou Trail Head and the eastern third of the MacEachen Trail (to the Highland Link Trail) has been reöpened, trimmed, and cleared of deadfalls, making it practical to once again use the MacEachen Trail to reach the Beinn Bhiorach summit, the route involving the least amount of climbing. It is great to have at least part of this fine trail back in service!