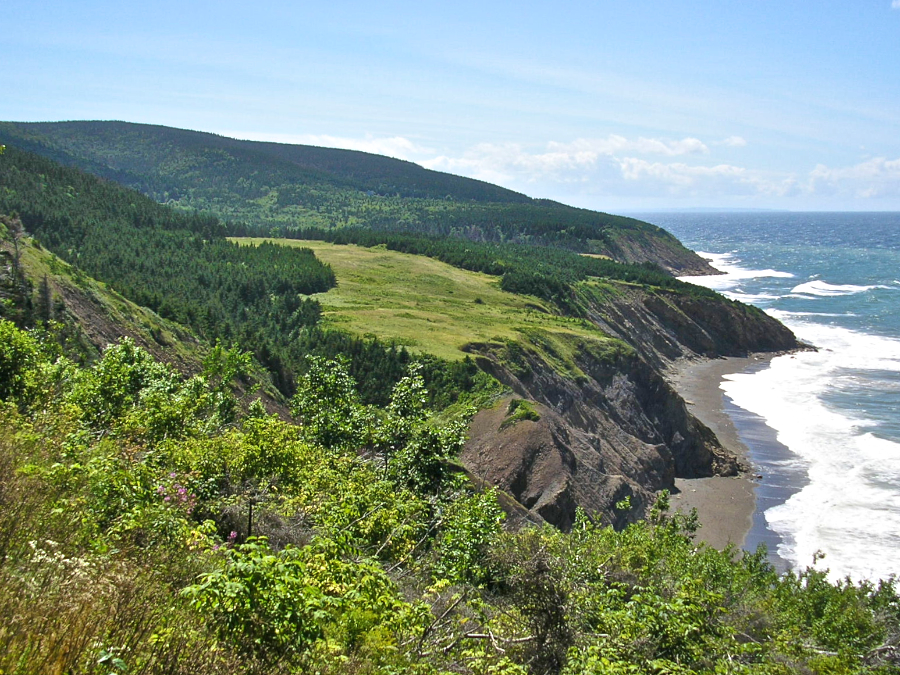 This is a view of the coast from the gorgeous MacKinnons Brook Trail, which offers beautiful vistas along most of its length (it starts and ends in forested areas) from a track high above the water as it runs along the coast between Sight Point and the trail head at MacKinnons Brook. I have mild acrophobia, but it never kicks in on this stunning hike.
The point protruding most to the right in this photo is the one seen in the coastal view from MacKinnons Brook Mouth. Here, one sees the Meadows in the centre, MacKinnons Brook Mouth before the furthest point in the photo, and Beinn Alasdair Bhain (Fair Alistair's Mountain) rising beyond. In this photo, one can barely see Cape George in the far distance to the right of the furthest point (it was easily visible to the naked eye). On this gorgeous clear day, the surf was pounding and it was audible even in the forested areas of the trail near Sight Point.
[2012] The MacKinnons Brook Trail was officially closed in 2011; however, a landowner at Sight Point cleared the trail in 2011 and it was in its usual fine shape when I hiked more than half of it in August of 2011. I would fully expect it to be open in 2012.