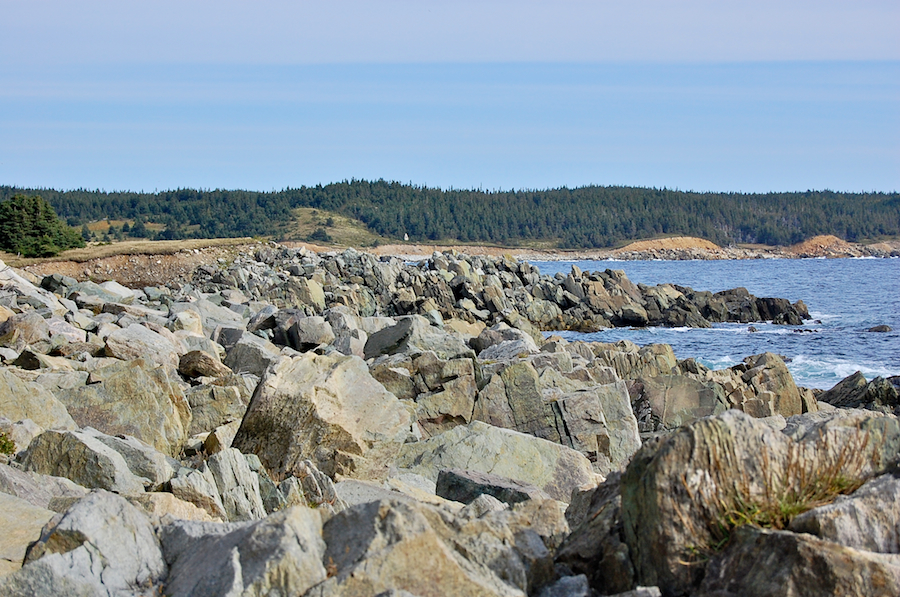 Photo #1 was taken on my hike back to the picnic area at Beach Number Two; it shows the kind of rocky coastal terrain over which one has to make one's way out to MacLeans Point, which is in the opposite direction of this view.
A bit left of centre and to the right of the grassy hillside in photo #1, you will notice a light-coloured speck apparently embedded in the trees above the water. This is the commemorative cairn, seen in photo #2, whose bilingual plaque reads in English:
Here, 8th June, 1758, the men of Brigadier General James Wolfe's Brigade, after having been repulsed with heavy loss by the French troops entrenched westward, made their gallant and successful landing.
Thus began the operations which ended on 26th July by the capitulation of Louisbourg.
[continued below]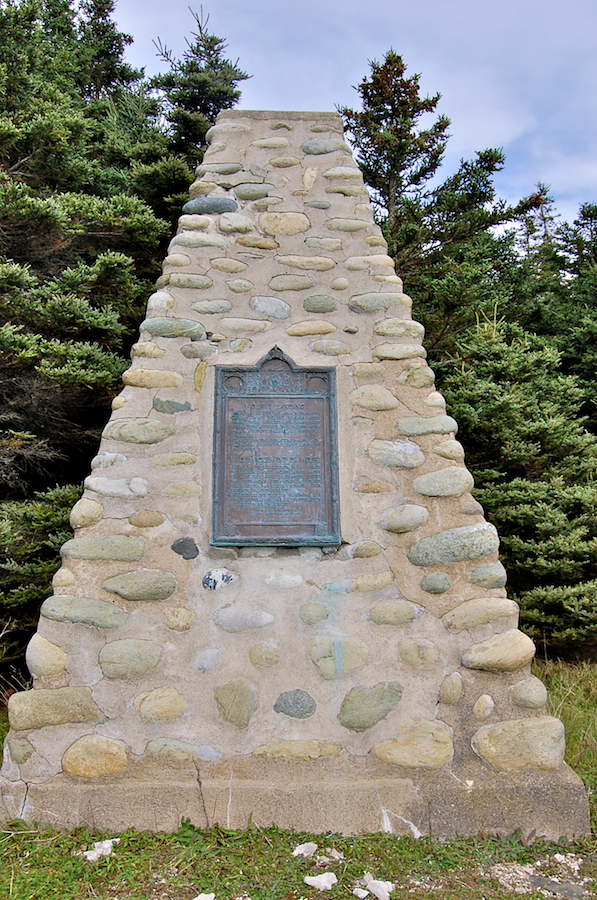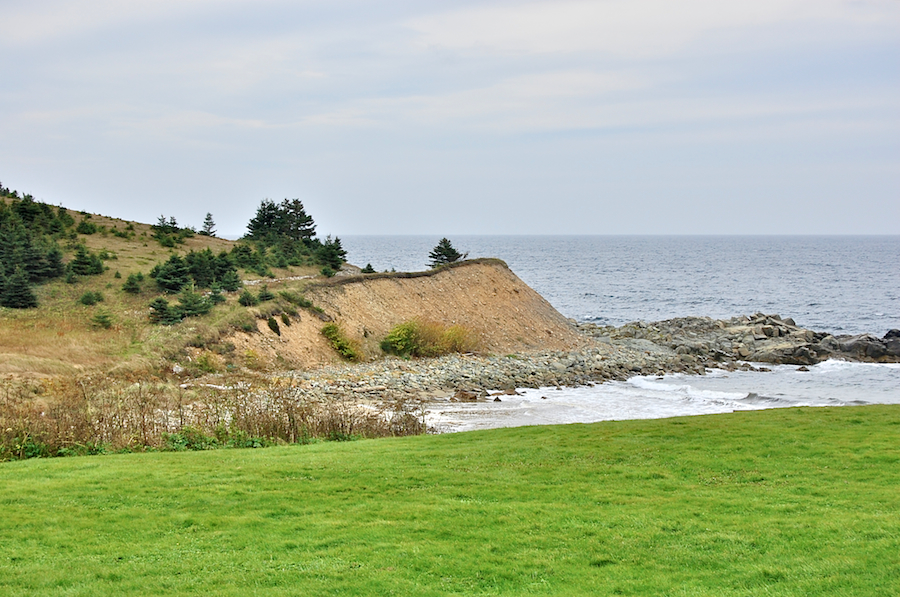 This was an incredibly daring accomplishment, as French and Mi'kmaq troops were defending the beaches from behind earthen fortifications along the cliffs seen at the left of photo #1 (and extending above the beaches well to the left of those cliffs), preventing the British from landing there. The French knew they had to protect this area because, during the first siege of Louisbourg in 1745, the British forces came ashore using the two Kennington Cove beaches. But, while the battle was raging on the beaches, Wolfe observed that the lie of the land provided just enough cover from their fire to enable him to bring his troops ashore in the small, rocky cove below the cairn. In photo #3, taken from above the easternmost beach where the defenders were established, you can see the exposed dirt cliff side which gave the necessary protection for Wolfe's troops to land; the cove, now known as Wolfes Landing, lies directly behind it and is shown in photo #4. Given the boulders in that cove, which has the same unfriendly sharp rocks as one sees in the foreground of photo #1, I am amazed that the boats carrying the soldiers did not founder on the rocks. Even if they made it part way into the cove, the soldiers would surely have had to wade through chest-high water to reach shore, as the boats simply could not come that close and there was no access to the land without climbing across the partially submerged rocks. Even on a relatively calm day like this one, the water was aboil in the cove. But the sand cliff side was just high enough and the undefended cove just far enough away on the east side of Kennington Cove Brook to allow the invaders to evade the defenders' fire and to come ashore as best they could; the rest, as they say, is history.