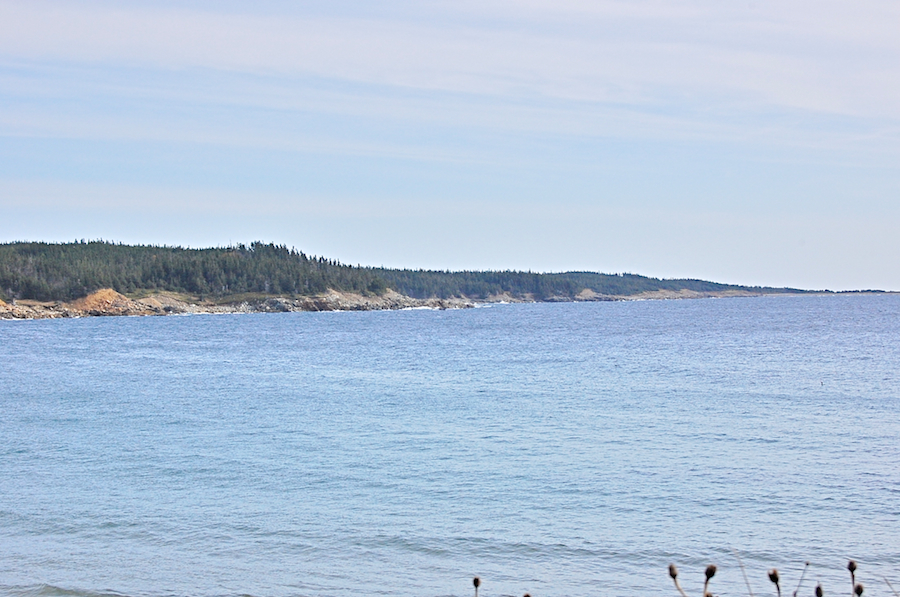 This view shows the Atlantic shore to the east of Kennington Cove towards Louisbourg. About a third of the way in from the right, you will observe three rounded grassy slopes between the trees and the water; I believe that the rightmost one holds the cliffs at Simons Point, to which a trail leads from Kennington Cove Road to the water. The entrance to Louisbourg Harbour is at the far right of this photo. All of this shore is part of the Fortress of Louisbourg National Historic Site.
From the parking lot at Beach Number One, a path runs across a bridge over Kennington Cove Brook and out to the commemorative cairn. From the cairn, the path appears to follow the shore in the grass well above the rocks, but apparently, from the cairn east, the path is not an official one. It crosses a very wet rill and a couple of boggy areas only to come to an abrupt end at the shore about ten minutes beyond the cairn. Like the shore at MacLeans Point, proceeding thereafter along the rocks is very tiring.
While there is not much hiking per se in the Kennington Cove area, there are plenty of ways to get exercise in this beautiful place: swimming in the summer and both beach-walking and rock jumping at other times of year. It's a lovely spot for a family picnic and you might just pick up a bit of history too as you enjoy the scenery.