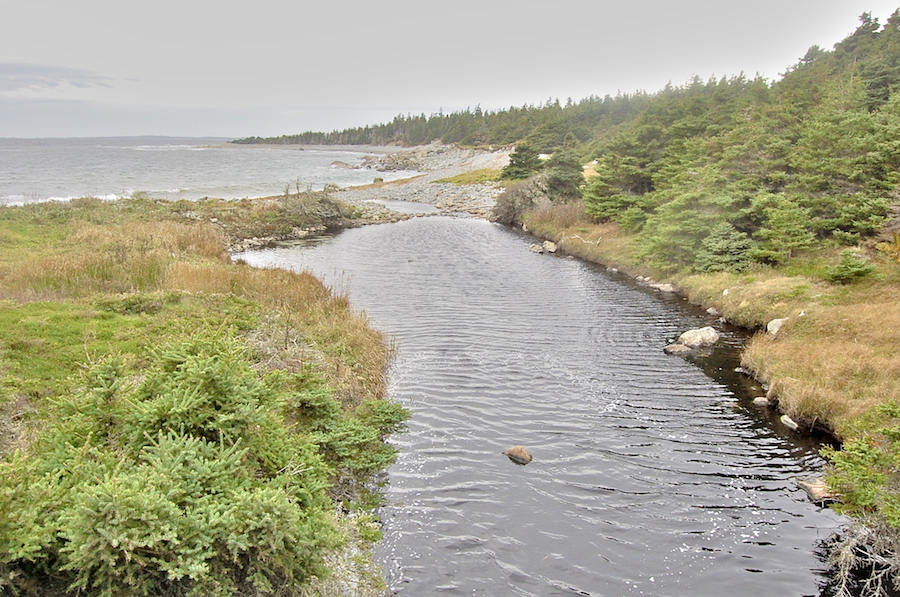 A trail, marked clearly by a sign at the side of the Kennington Cove Road 5.5 km (3.4 mi) from the eastern boundary of the Fortress of Louisbourg National Historic Site at the western edge of the village of Louisbourg, runs from the Kennington Cove Road to the coast at Simons Point. Room for a few cars is provided in a parking area at the edge of the road. The trail, which is easy, though with some up-and-down, takes about twenty minutes to walk and runs mostly through the forest, though it crosses a couple of bogs on boardwalks and the pretty little brook on the wooden bridge from which this photo was taken looking to the west.
By the time I had reached the coast, the skies had continued to darken and it was becoming noticeably cooler; it was increasingly obvious that rain was not far off, but the heavens had the kindness to wait until I was back in my car and outside of Louisbourg before letting loose with a torrent of heavy rain.
I do not know whether the point one sees here is Simons Point or an unnamed point; I suspect that it is the latter and Simons Point is used for the area on which the trail comes out (just to the left but out of the scope of this photo). The brook enters the ocean just left of the centre of the photo after flowing across the rocky beach. Given the threatening weather and the lateness of the hour—I had to be back on the western side of Cape Breton by evening—I did not do any beach walking here, beyond following the trail to its end across the grass-covered cliffs at the coast.