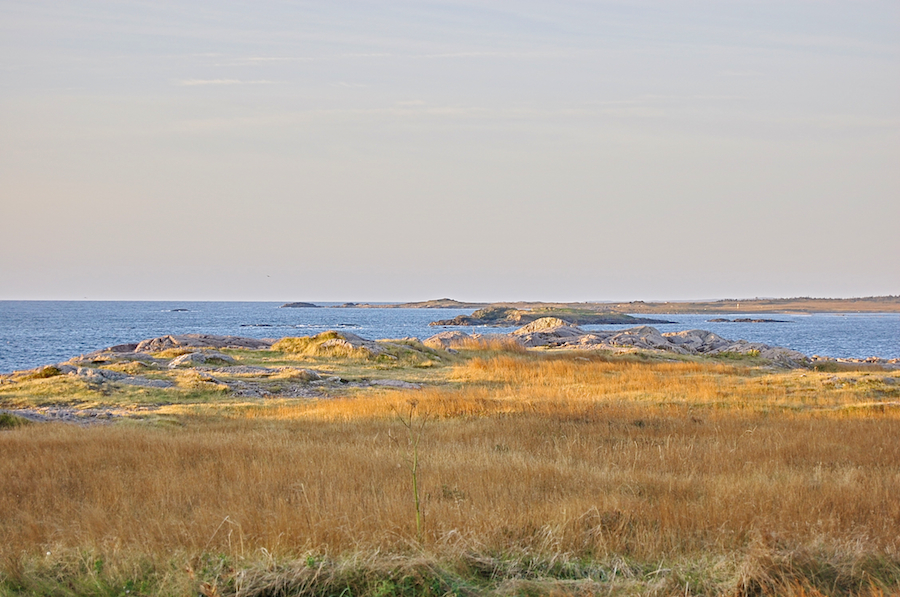 I awoke quite early in the morning, which was bright and clear, too early for breakfast—in October, there are few restaurants open in Louisbourg and those that are, open at 8h—so I drove out to Louisbourg Lighthouse since I hadn't been there in a couple of years, expecting to take a few photos and walk about a bit before having breakfast.
Barely above the horizon at this hour, the sun cast a golden glow over the scene, rendering it almost magical. The ocean appeared very quiet and looked very blue (the grey sky seen in this photo must be at least in part an artefact of the golden sunlight); in fact, a good breeze was blowing off the Atlantic and the surf was crashing pretty spectacularly onto the rocky shore to the north, even though it was fairly calm in the harbour and at the harbour entrance. In any case, I looked at this scene in amazement, as days as beautiful as this are not that common in my experience to date at Louisbourg, even in high summer—I think this day was the first time I have been at Louisbourg Point in such spectacularly beautiful weather, though I do recall another equally beautiful day I spent at the Fortress.
In this view to the southwest, Lighthouse Point is in the foreground, with the entrance to Louisbourg Harbour directly beyond; the grasses wear their fall colours, having been touched by frost (as well as being lit by the sun). The rounded island in the middle of the harbour entrance I take to be Battery Island. The shore on the other side belongs to the Fortress of Louisbourg National Historic Site and the Fortress itself is at the far right, outside the scope of this photo. The shore towards Simons Point and Kennington Cove is not visible in this view, hidden by the land on the far shore of Louisbourg Harbour.