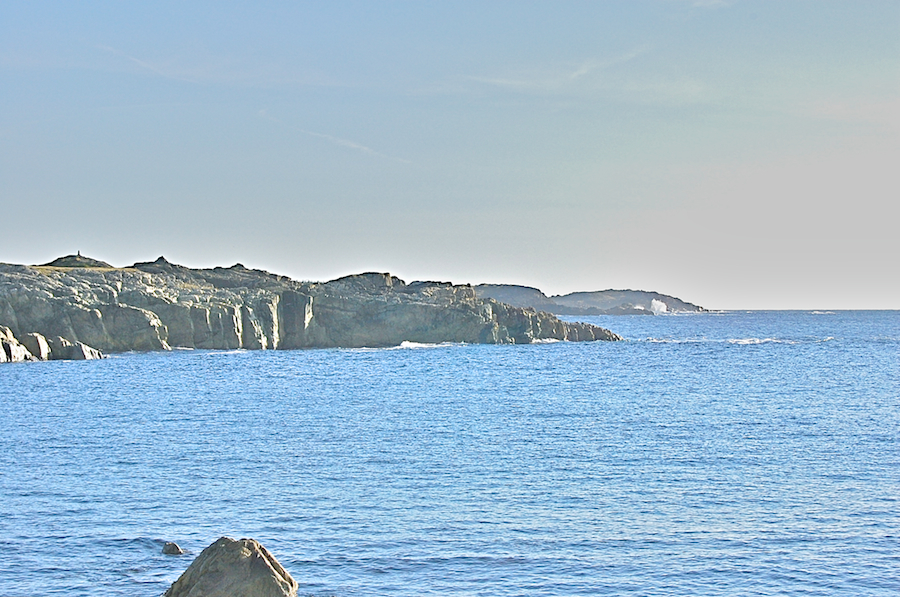 The end of the trail, as it was staked in the ground when I was there, leaves one at the edge of a horseshoe-shaped cove, lined with cobblestones and populated with eroded rocks that, in several cases, are barely above water. I noticed a path that continued beyond the cobblestones and through the trees on the other side and decided to follow it further down the coast, where I came out on another point, which the topographical map labels as Eastern Gun Landing Cove Head. It was from there that photo #1 was taken, looking to the east. Notice the height of the huge wave splashing on shore about a third of the way in from the right edge of the photo: that is some splash! And it was not a one-time occurrence—similar, though not quite so spectacular, splashes were occurring there regularly! I believe that point to be Hammer Head and it appears well-named!
Because photo #1 doesn't convey well the awesome panorama that confronts one in this place, I have added photo #2 to expand it a bit: it looks directly across Brook Landing Cove to the land on its other side, which is interesting from more than one point of view. First, the exposed rock face just left of the centre of the photo is noteworthy; other than the previously seen cliff, such inland large rocky protuberances are scarce along this part of the coast. Second, the sun's angle was just right to bring out the varied angles of tilt shown in the rocks that line the shore: some are vertical, while others lie at 45° angles both left and right of vertical, and the rightmost rock formation appears to show all three in one! Third, the boggy terrain seen in the previous photo is not so much in evidence here. Fourth, and most importantly, the beauty of this wild maritime panorama just takes one's breath away!
From what I have been told, an unmarked foot path leads on from here all the way to Big Lorraine (and perhaps further, though my local informants were in some disagreement about that when I asked). I would love to see the rest of this shore up close, so I hope to get back here again and hike the rest of the way. But, on this day, if I was going to get breakfast and see Kennington Cove, it was beyond time to leave—already past 9h—so I reluctantly left these gorgeous scenes and returned as I came.
[2012] As previously noted, it is now certainly possible to follow a well-marked trail of incredible beauty all the way to the Eastern Point of Lorraine Head, at GPS 45°55.235'N 59°55.268'W, from which Big Lorraine Harbour is easily identifiable, though I did not find a way forward from there to Big Lorraine. That doesn't mean that there isn't one, just that, if there is, it's not as immediately obvious as the trail to Lorraine Head itself.