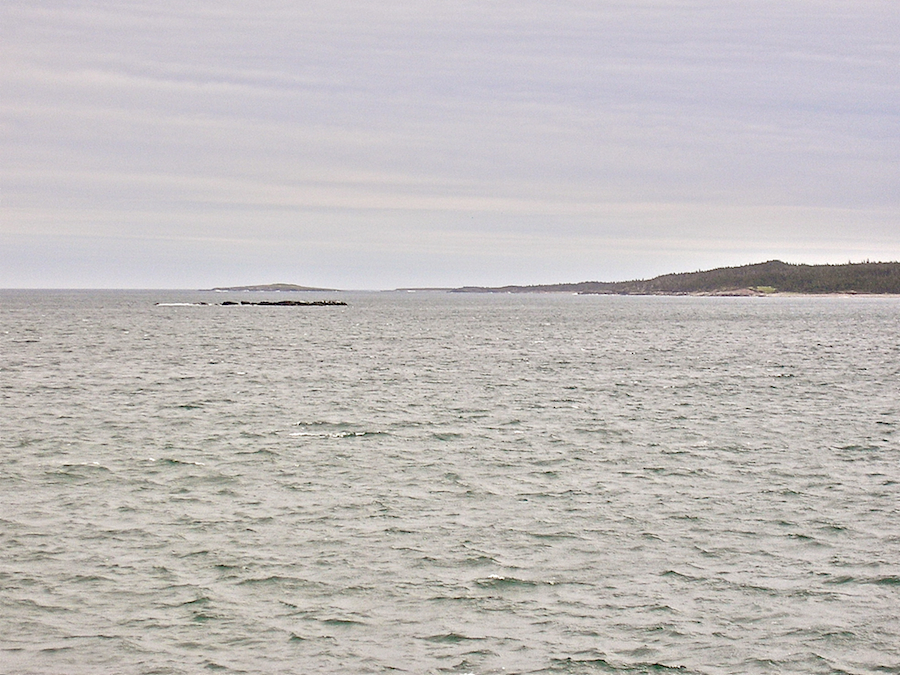 Main-à-Dieu, whose local pronunciation is [ˌmænəˈdu] MAN-uh-DOO, lies about 5 km (3.1 mi) to the north and 1 km (0.6 mi) to the east of Little Lorraine Harbour. The road between these two communities bypasses Baleine, the locality nearest Cape Breton (the cape): a gravel spur road to Baleine leaves that road about halfway. This year, I did not visit Baleine, whose name is the French word for whale (so named for a rock now called The Whalesback at the entrance to Baleine Harbour), as I had already been there twice in previous years in attempts to hike from there out to Cape Breton, each time forced to turn back by the weather. Baleine is a wild and beautiful spot (and a historic one as well, as Sir William Alexander landed there 1 July 1629 with 60 settlers in an attempt to establish a permanent colony, but they were subdued by the French in September and subsequently repatriated to Great Britain) that would otherwise certainly have merited inclusion in this essay; a photo of the coast at Baleine can be found here.
According to p. 355 of William Hamilton's Place Names of Atlantic Canada, Main-à-Dieu (French for God's Hand) "is of Mi'kmaq origin and, ironically, is a French corruption of menadou, for 'evil spirit' or 'the devil'. It was first rendered as Main-à-Dieu by DesBarres during his survey of Cape Breton in 1786".¹
This view looks along the coast of Main-à-Dieu Bay towards Cape Breton (the cape), some 7 km (4.3 mi) to the southeast. The topographical map labels the rocks in the foreground as "Black Rock" and the island left of centre must be the Île-aux-Cannes (Cane Island in English, apparently so named because it had wood that made good fishing poles). That would put the elusive Cape Breton at the far horizon in the centre of the photo. Some day, I hope to see it up close and personal!
I wish this were a better photo than it is; it was taken in the evening of the day previous to the one in which the immediately preceding photos were taken and at an hour when the gorgeous weather of earlier in the day had given way to the cloud cover one sees here. This was the first time I had been to Main-à-Dieu in a few years and the photos I had the last time I was there are, alas, no better. I did pass through Main-à-Dieu the following day when the weather was much better, but I did not go back out to Burkes Point, from which this photo was shot, and the other photos I took in Main-à-Dieu do not show Cape Breton. Oh, well, some day, I'll hit the weather just right!
---
¹ Joseph Frederick DesBarres was the renowned author of The Atlantic Neptune, a survey conducted over ten years beginning in 1763 for the British Admiralty of all of the harbours of the East Coast of America, including Nova Scotia and Cape Breton, published after a subsequent ten years of editing and illustration in 1783 to acclaim for its excellence both technically and artistically, and for which he was rewarded by being appointed the first Lieutenant-Governor of the independent British colony of Cape Breton, separated from the British colony of Nova Scotia in 1785, but rejoined (against its will) to Nova Scotia in 1820. See Robert J. Morgan's Rise Again! The Story of Cape Breton Island, Book One for a fascinating account of this period.↩