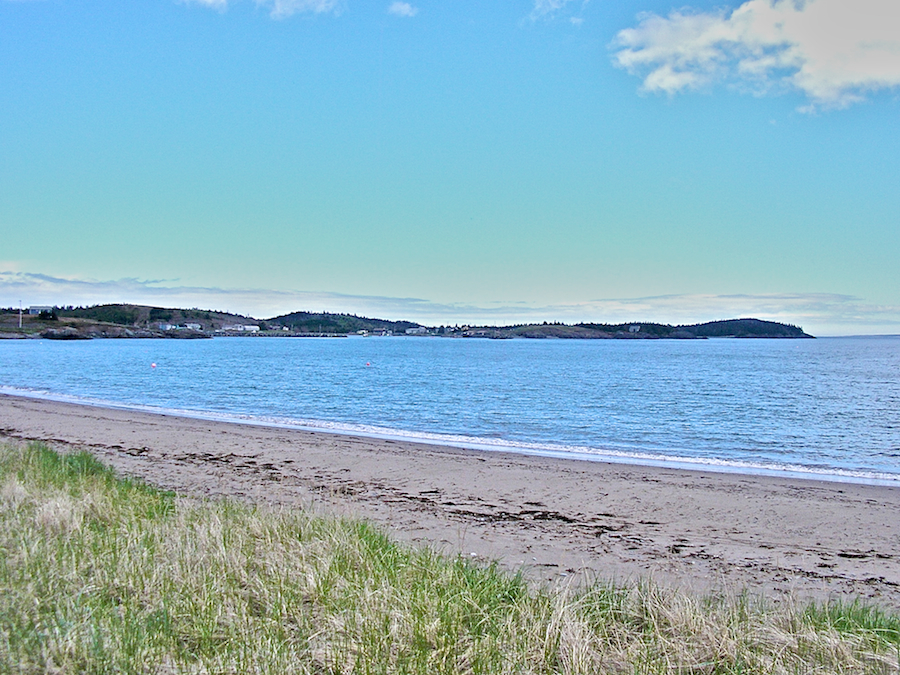 Photo #1, a view to the north from the boardwalk area at Main-à-Dieu, shows the northern end of Main-à-Dieu Bay around which the village of Main-à-Dieu is arrayed. The harbour area of Main-à-Dieu lies nestled in a cove protected by breakwaters between Battery Point on the left and Burkes Point on the right; the point at the far right is Grandfathers Head and lies on the other side of Grandfathers Cove. To the right of Grandfathers Head is the Main-à-Dieu Passage and beyond it is Mira Bay.
The community of Main-à-Dieu is, like most of the communities along this coast, a fishing village, now heavily engaged in the lobster and crab fisheries since the collapse of the other fishing stocks. It is larger than many, with a population of 240 in 2001, and is the site both of an annual blessing of the fleet at the start of the spring fishing season and the John Hall Memorial Fishing Boat Races in August after the end of the fishing season. Photo #2 shows from the road in the village the colourful fleet in port in the evening of 2008 June 11. In photo #1, this fleet had departed from the harbour and was out making the rounds of the lobster traps.
From the stop sign in the village, a road leads around back of the harbour to Burkes Point. At the top of the hill behind Burkes Point is a small park and look-off; a road leads up there, but I'd advise walking up rather than driving up, as the road at the top was badly rutted when I was there and I couldn't see that until it was too late to back down safely—fortunately, I made it both up and back without more than a few worrisome moments and calculations. There are fine views of the entire area from up there, including the vista leading to Cape Breton (the cape) seen two pages previously. A trail, which I have not hiked but have added to my to-do list, leads from the end of the harbour road to Moque Head, at the easternmost edge of the peninsula seen in the top photo.