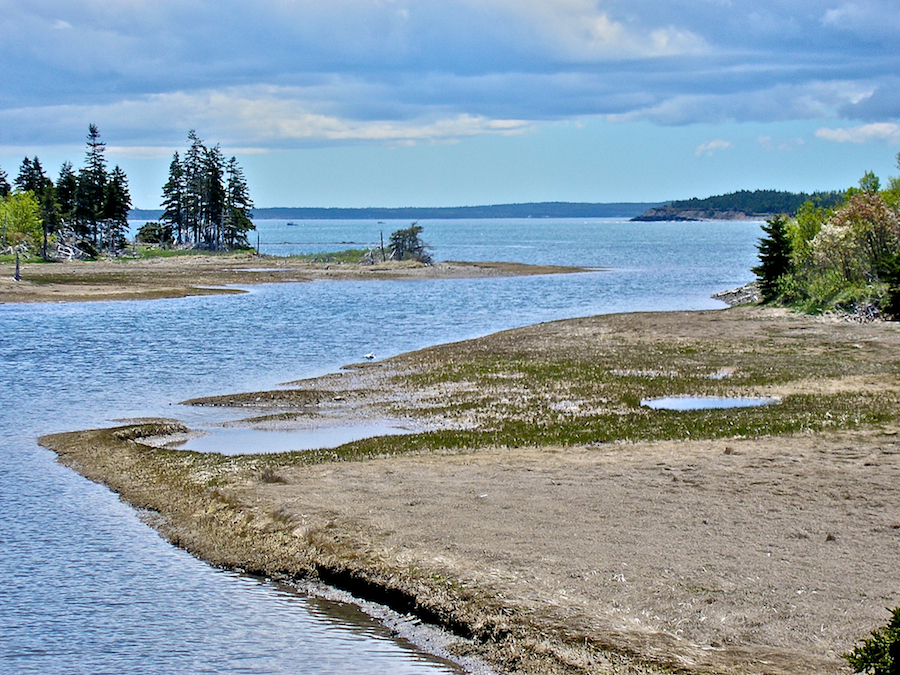 Photo #1 looks across Mira Bay to its southern shore on the peninsula which runs out to Main-à-Dieu. The Homeville River is in the foreground; False Bay lies between the point in the centre and MacAuleys Point at the right of the photo; Mira Bay stretches beyond MacAuleys Point.
The Homeville River divides the unnamed island on which the localities of Waddens Cove and South Port Morien are found from Cape Breton Island.¹ I am unable to find a proper name for this island; older sources refer to it as a peninsula ending in Cape Morien, now known as South Head: for example, this description comes from page 203 of Beckles Willson's Nova Scotia: The Province That Has Been Passed By, published in 1912:

[…] a barren peninsula, five miles long and two wide, juts out, ending in Cape Morien. This peninsula is joined to the mainland by a low strip of sand, called False Bay Beach, which often used to deceive the mariner by tempting him to essay a passage through to Port Morien. […]
and, in these sources, Cape Morien seems to be used for both the peninsula and the narrow headland in which it ends, though with the latter usage predominating. Although the water is shallow near the bridge, the topographical map clearly shows it to be a river and what I saw from the bridge confirms that, so this land mass cannot be a peninsula but must instead be an island. Nevertheless, the topographical map gives it no name and "Waddens Cove Island" gets no Google hits, while Cape Morien gets many. So, I will refer to the island here as Cape Morien and its northeastern end as South Head.
The Homeville River is spanned by one of the fast disappearing graceful old style iron bridges, seen in photo #2, another of which still stands at Victoria Bridge (in the second half of 2008 alone, two of these structures, Murrays Bridge over the Mull River between Hillsborough and Rankinville (near Mabou) and Doyles Bridge over the Margaree River outside Margaree Forks, were rendered unsafe by storms and are being replaced with more modern and less photogenic structures). The waters near the Homeville River bridge are said to be excellent for bird watching and clamming. The late spring day I was there, there were bushes and small trees just beyond the bridge which had burst into bloom, probably wild cherry and chokecherry trees; they were masses of white. While described above as "barren", today much of the island is covered with trees, mainly evergreens, as a photo I took from the top of the hill on the Waddens Cove Road shows.
---
¹ Confusingly enough, the Cape Breton Regional Municipality's official map for this area labels the entire island as the community of South Head and gives its population as 28, but the topographical map shows only South Port Morien and Waddens Cove as localities. I can find no population figures for either locality, but there were clearly a few permanent residences at Waddens Cove, while I saw only summer homes at South Port Morien, and even fewer of those.↩