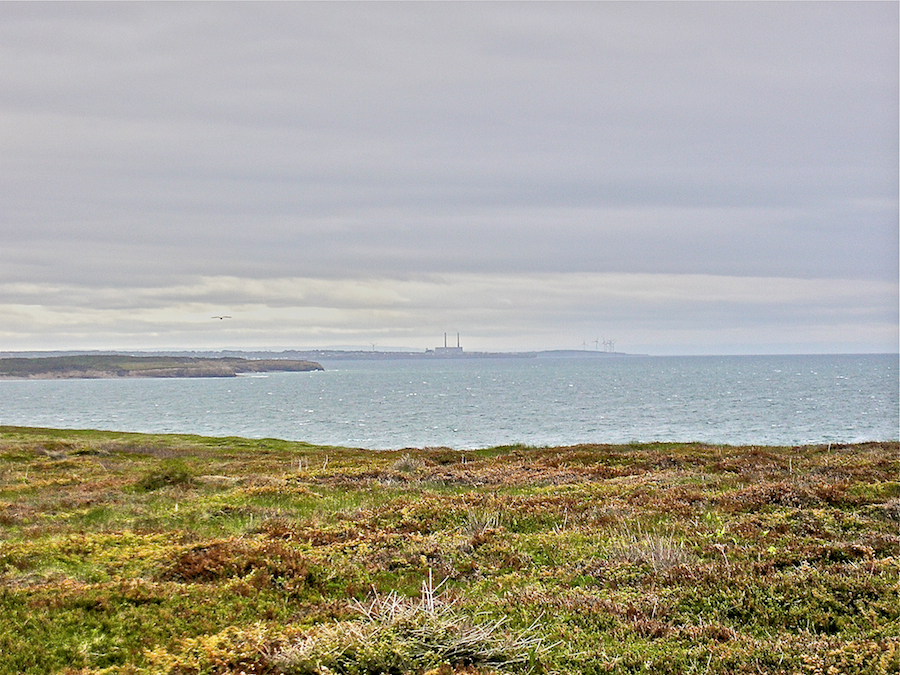 This photo was taken from Schooner Pond Head on the return hike; it looks west along the northern coast of Cape Breton. It would not be long before the clouds here started to dump a torrent of rain, but, for the moment, only droplets of water were in the air. The wind, which was in good form here all afternoon long—I needed my thick sweat shirt on as the breeze off the ocean was quite cool–had by now freshened even more, as the white caps on Schooner Pond Cove and beyond attest. Notice the gull in the sky at the left soaring on the wind above Schooner Pond Cove; I saw several others this afternoon struggling against the wind (some seemed to be just playing in the strong currents) and then suddenly swooping to the edge of the cliffs to rest before again taking to the air.
The point left of centre is Bordens Head; behind it and to its left is Big Glace Bay and on its far shore lies the city of Glace Bay, site of both the celebrated 761-seat Savoy Theatre and of the equally famous Cape Breton Miners' Museum, both definitely worth the visit. The structure with the dual smokestacks is the Nova Scotia Power coal-fired electrical generating plant at Lingan. Right of centre, you can barely make out the towers of the Glace Bay Wind Farm, on the coast between Lingan and New Waterford, which went into service on 17 August 2007. According to this article, the wind farm has nine turbines that annually produce "enough energy to power about 6,000 homes".
It is tempting to think that the band of grey-blue just above the water at the far right is the shore along St Anns Bay, but I'm pretty sure that it is just cloud cover. On a clear day, that shore is certainly visible from Schooner Pond Head, but it wasn't this day, because I checked when I first got up on the cliffs at a time when it was much brighter, though still cloud-covered, in the west and could make out nothing distinctive in that direction. On the other hand, the mountains one sees at the horizon in the far distance left of the power plant form the (somewhat nearer) Great Bras d'Or Massif that lines the Great Bras d'Or Channel from Cape Dauphin to Baddeck.