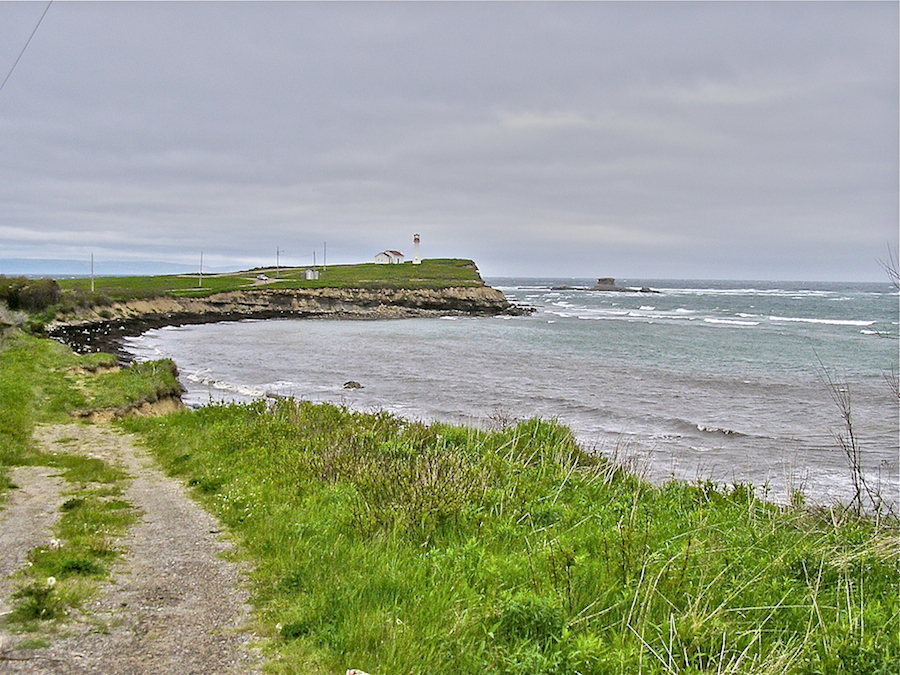 This view shows Point Aconi and its lighthouse; the strange submarine-shaped structure off the point is Aconi Island. At the far left of the photo, one can see the line of the edge of the Cape Breton Highlands plateau which comes quite close to the edge of St Anns Bay, a small sliver of which can be seen below the plateau. On a clear day, the views of Cape Dauphin, the St Anns Bay coast all the way to Cape Smokey, and of the Bird Islands off the end of Cape Dauphin (generally taken to be the boundary between the Atlantic Ocean and St Anns Bay) are spectacular and well worth the visit.
The first Point Aconi Lighthouse was built here in 1874; it was discontinued between 1943 and 1955 and then replaced with a skeleton tower between 1955 and 1968. The current lighthouse was built in 1989 and is a circular fibreglass tower 11.5 m (38 ft) high, rising 24.3 m (84 ft) above the water. It is unstaffed; the buildings left of the lighthouse hold the foghorns.
With this photo, the tour of Cape Breton County's rural coast from the Louisbourg Area north comes to a close. I hope you have enjoyed these photos and will find an occasion to visit these beautiful shores.