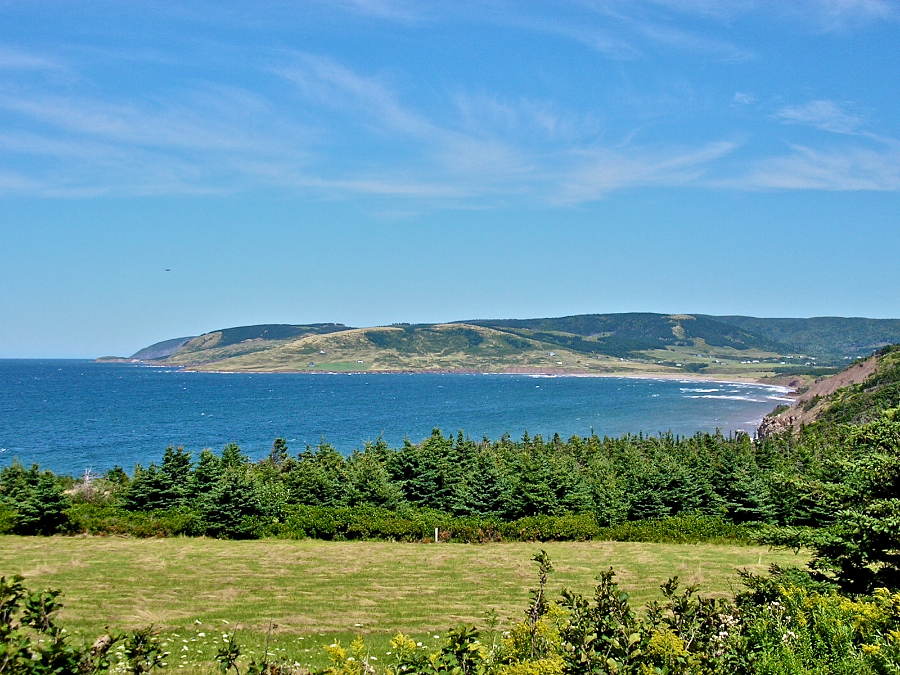 Leaving the Cèilidh Trail (Highway 19) in West Mabou and following the West Mabou and Colindale Roads for 8 km (5 mi) brings one to this beautiful scene, which looks to the north. Beinn Alasdair Bhain (Fair Alistair's Mountain) rises in the far distance at the left; Finlay Point is the low point that extends furthest into the Gulf of St Lawrence in this view and lies south of Beinn Alasdair Bhain. Coal Mine Point and Beaton Point lie between Finlay Point and Green Point, the nearest point in this view. Mabou Harbour Mountain rises from Green Point in the centre of the photo; the other prominences are, so far as I have been able to determine, unnamed. The mouth of the Mabou River is hidden behind the breakwater below the red cliffs in the centre of the photo. West Mabou Beach Provincial Park extends from that breakwater to the right of the photo; it offers beautiful walking trails suitable for all ages through the forest, along the Gulf Coast, and along the Mabou River—the views from the coastal trails are superb!
I am not sure whether the speck one sees in the sky well above Beinn Alasdair Bhain is a gull or an eagle, but the whole area teems with bird life, especially in the estuary of the Mabou River.
This gorgeous view of the southern end of the Cape Mabou Highlands seen from the Colindale Road in West Mabou is one to which I am drawn as a moth to light. The Inverness County coast is pretty at every point, but nowhere more so than here. I seek out this vista as soon as I arrive in Cape Breton and it is one of the last I visit before I leave. With its melding of the Cape Mabou Highlands, the waters of the Gulf of St Lawrence, the fields, the forests, and the sky into a peaceful, harmonious whole, it is a magnificent icon for the tranquil beauty of Cape Breton!