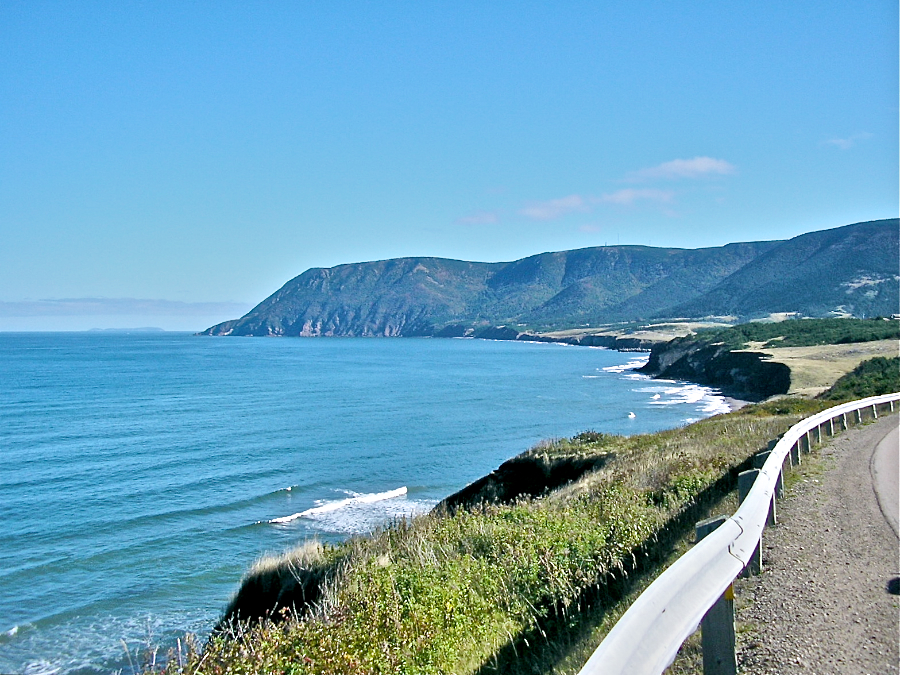 The magnificent Cape North massif, seen here across Bay St Lawrence from the Meat Cove Road, has two promontories: Cape North, visible at the far left of the massif relatively low to the water; and Money Point, hidden behind the massif in this view, where a lighthouse (confusingly called the Cape North Lighthouse on that web page) and shown in this photo, sits to the southeast of Cape North. Insofar as I am aware, there is no trail to Cape North, but the Money Point Trail (beginning at the end of the Money Point Road, which one takes near the marina in Bay St Lawrence) leads up the valley just right of the centre of the photo, across the Cape North massif, and down the other side to Money Point. I have not yet made it to Money Point, but I have stood on top of the massif, after the most exhausting hike up I have taken anywhere on Cape Breton. The views on the way up and from the top, though, are very fine!
The Cape North Massif lies above and to the west of the Aspy fault, formed when two tectonic plates collided some 450 million years ago. It runs southwestward in a fairly straight line from the sea bed along the east coast of Money Point beyond Cape North through the Aspy Valley and beyond to the Margarees; as one climbs North Mountain on the Cabot Trail, the Aspy fault lies in the valley at one's left.
The picturesque village and harbour of Bay St Lawrence is hidden in this view; the breakwater at the entrance to the harbour can be seen low to the water about a quarter of the way in from the right below a cliff that is further down the coast. The village lies at the edge of Deadmans Pond, connected by a short channel to the sea.
Cape North is among the most striking physical features on Cape Breton Island; it can be viewed from many locations on both the Bay St Lawrence (west) side and the Aspy Bay (east) side of the massif.
[2012] The Money Point lighthouse was dismantled in 2009 and replaced with a skeleton tower.