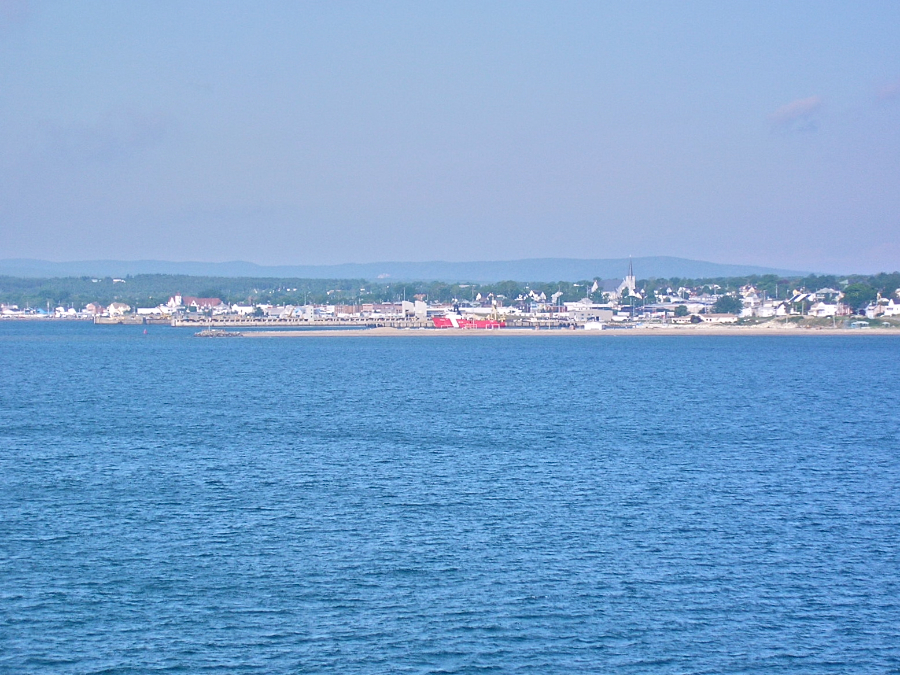 This view of North Sydney was taken from the ferry about ten minutes after it had sailed for Port-aux-Basques in Newfoundland. The massif one sees in the far distance rises above and on the far side of the Great Bras d'Or Channel, with the peak of Kellys Mountain not far to the right of the grey church steeple. That range tapers down at its north end to Cape Dauphin and extends to the south as far as Baddeck (well outside the scope of this photo). Between the city and the distant mountain range, Boularderie Island lies between the Great Bras d'Or Channel on the west and St Andrews Channel on the east. To the west of the city (and not visible here) lie Pottle Lake and Highway 125; a hiking trail, part of the Trans-Canada Trail, runs to the west on the north side of Pottle Lake toward Scotch Lake.
The two pillars near the centre of the photo mark the loading area at the Marine Atlantic ferry terminal. As can be seen from the the brightly coloured Canadian Coast Guard vessel to the right of those pillars, these docks are used by other ships as well as the ferry.
North Sydney's history as a port goes back more than 150 years. By 1870, it had become the fourth largest port in Canada handling ocean-going vessels, primarily steamships loading bunker coal. The Western Union cable office connecting Canada to Europe was located here in 1875, the railroad arrived in 1891, and the Newfoundland ferry service began in 1898. In 1891, North Sydney was a bit larger than its sibling, Sydney, across Sydney Harbour, but that has changed today: in 2001, North Sydney's population was 6,775, while Sydney's was not quite four times larger at 24,115.
The beautiful views of Sydney Harbour in all directions available from the top deck of the ferry will certainly stick in the mind of anyone who has ever travelled by ferry to or from Newfoundland on a fine day; it is one of the best ways to see this iconic area of Cape Breton.