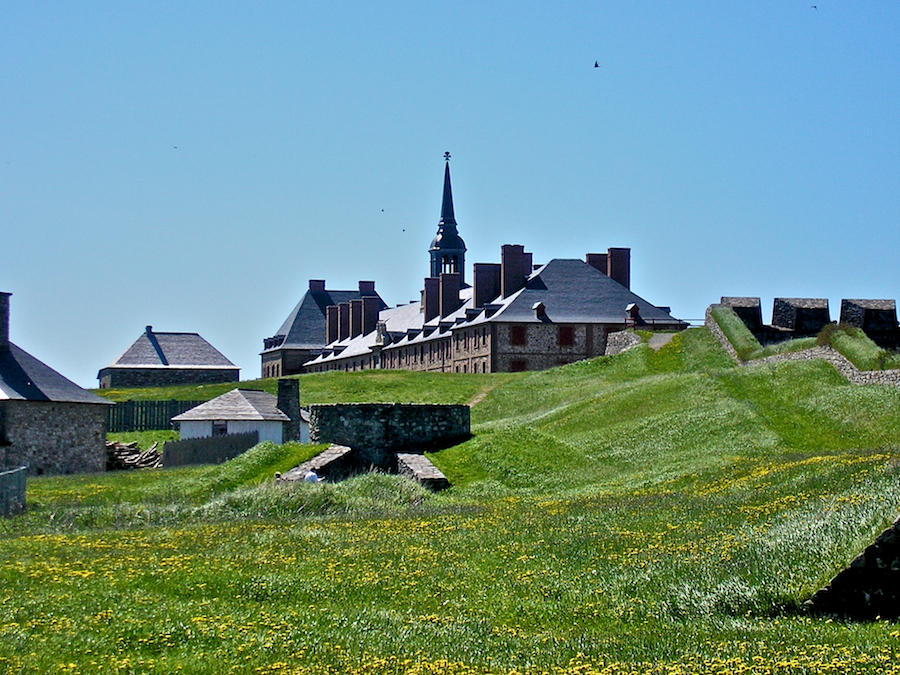 This view, of course, is of the King's Bastion at the Fortress of Louisbourg National Historic Site. Surrounded by defensive works and protected by a moat and drawbridge, the King's Bastion held a chapel (which served as the town's parish church), the Governor's and officers' quarters, and barracks for the common soldiers who were stationed at Louisbourg. The fleur-de-lis at the top of the steeple marks this as a building that belonged to the French king. The splotches of black in the clear blue sky are birds enjoying the beautiful late spring day.
The terms of the Treaty of Utrecht (1713) deprived the French of most of their other lands bordering the Atlantic: they were left only with Isle Royale (Cape Breton Island) and Isle Saint-Jean (Prince Edward Island) from which to continue and protect their lucrative fishery off the Grand Banks. The French chose Louisbourg in preference to their earlier installations at St Anns Bay because the harbour at Louisbourg was ice-free year round whereas the harbour at St Anns was often blocked by winter sea ice along the island's northeastern coasts, a situation that still occurs to this day. Construction of a fortress began at Louisbourg in 1719 and continued for the next twenty-five years. Initially thought to be well protected against invaders by the boggy terrain, it proved to be pregnable, first in 1745 and then again in 1758, when control of these islands passed definitively to the British, who demolished the fortress in 1760.
In 1961, the Government of Canada undertook an extensive project resulting in the restoration of about a quarter of the historic town's buildings and fortifications to their state in the 1740's before the first siege, while protecting the archaeological record buried there. Today, skilled interpreters make real the lives of the schoolchildren, townsfolk, lowly soldiers, fishermen, sailors, fiddlers, ranking officers, merchants, and bigwigs who peopled this French town. It is a delightful and educational place to visit, while the great natural beauty of its site—one can walk outside the reconstructed fortress to the shore along the harbour and the Atlantic—is yet another reason to explore this well-known Cape Breton icon.