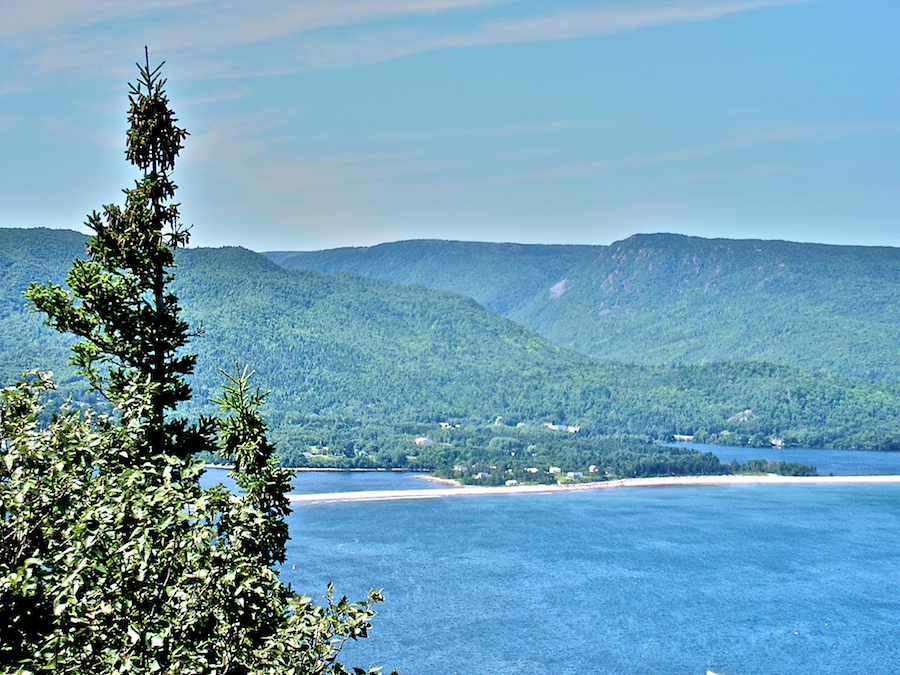 This view of Ingonish Beach was taken at the end of the Cape Smokey Trail from the Stanley Point Look-Off. The water in the foreground is South Bay Ingonish and the white band at the edge of the water is the beach, much of it largish cobblestones piled atop each other. Beyond the beach at the left is Ingonish Harbour and, at the far right, Freshwater Lake. The relatively short Beach Crossing Road leads from the Cabot Trail out to the land between these two interior bodies of water, from which there are fine views of Cape Smokey and the Cape Breton Highlands adjacent to Ingonish Harbour; a trail leads along the shore towards the sand beach adjacent to Middle Head (at the far right outside the scope of this photo), a popular swimming spot in the summer time.
Franey Mountain rises in the distance somewhat right of centre; a trail, described as difficult, leads to its summit at 425 m (1400 ft), from which there are spectacular views. I attempted to hike it last summer, but the weather was so foul that it precluded me from even getting started, so it remains on my (longish) list of places to hike.
The cleft to the left of Franey Mountain is the valley carved by the Clyburn Brook (so named on the topographical map, but usually referred to as the Clyburn River). The Highland Links golf course is near its mouth and another trail, nearly completely flat, generally follows along the river below Franey Mountain a considerable distance inland, passing by an abandoned gold mine. I hiked that trail in 2008, though, alas, the mountains above were enshrouded in mist when I did so and, as a consequence, I missed many of the beautiful views from the trail. The river itself, however, was quite impressive, its bed littered with huge cobblestones and full of rushing water from the previous two days of heavy rains.
[2012] I regret that I have not yet hiked up Franey Mountain nor experienced its views; it remains on my to-do list, however difficult it may well be.