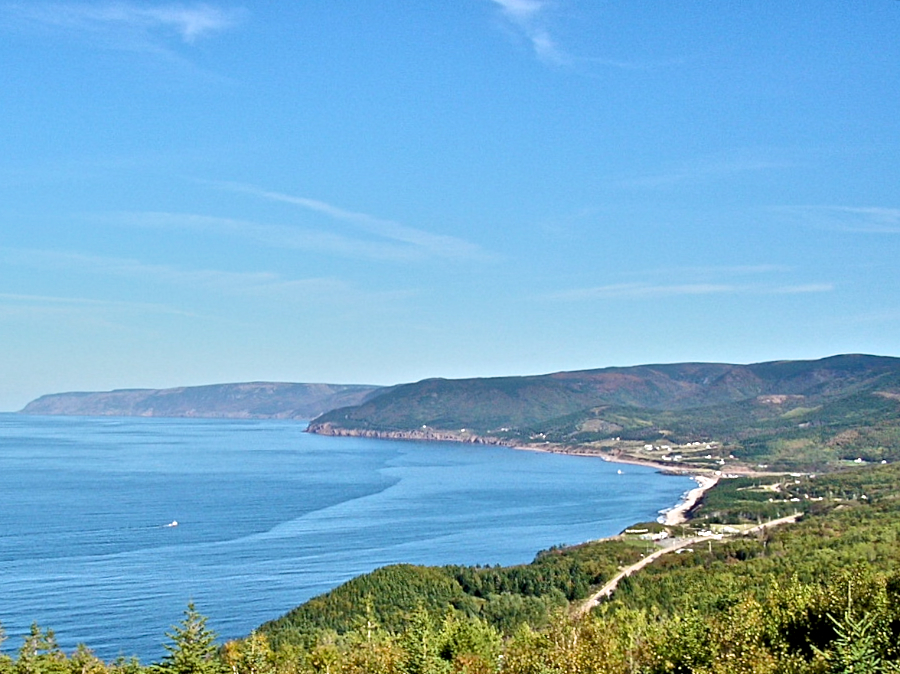 This iconic view of the northwestern coast of Inverness County was taken on the Cabot Trail from part way up MacKenzies Mountain to the west of Pleasant Bay, the village whose buildings can be seen at the centre right of the photo. The road at the bottom of the photo is the Cabot Trail, which continues past Pleasant Bay to the right and outside of this photo's scope. Much of the land seen here lies outside the Cape Breton Highlands National Park: it falls within the Polletts Cove-Aspy Fault Wilderness Area, a protected area under provincial regulation. The low point below the highlands at the far left of the photo is Tittle Point, north of the High Capes; Cape St Lawrence lies beyond Tittle Point and blocked from view here by it. The point left of centre is Kerrs Point; the waters to the right of the point are also known as Pleasant Bay. The community of Red River is behind the lower mountain with cleared fields on its sides one sees about halfway between Pleasant Bay and Kerrs Point. A road that runs from Pleasant Bay to Red River offers fine views of the shore towards MacKenzies Mountain; after passing through Red River, the road turns to gravel and continues on out and past Kerrs Point, passes through Gampo Abbey, and ends where the trail to Polletts Cove begins. There are a few good views from the road beyond Red River, but most are tree-shrouded.
The Pleasant Bay area was settled in the 1820's, mainly by Scottish Highlanders and Irish, who farmed and fished, activities that continue here to this day. Effectively cut off from the rest of Cape Breton until the Cabot Trail was constructed (1925-1932),¹ its spectacular site and strategic position near the middle of the Cabot Trail has made it a tourist destination of choice, offering accommodations and excellent dining. The whale watching cruises available in the harbour allow one to see the long-finned pilot whales (Globicephala melas) that frequent the adjacent waters and, at certain times of the year, both seals and other types of whales. The Whale Interpretive Centre near the harbour offers multimedia displays and exhibits that will fascinate anyone interested in whales and their environment, including a life-size model of a pilot whale and descriptions of the sixteen species of whales which are found in Cape Breton's waters. And the sand beach is a great place to hang out and swim on the hot days of summer!
Gampo Abbey, a Tibetan Buddhist monastery founded in 1984, lies along the shore north of Kerrs Point. As of this writing, its web page offers a lovely slideshow with views of the abbey and of the adjacent area, including local fauna. The Stupa is situated adjacent to the road and can be visited at any time. Tours of the abbey, however, are available only in July and August; see the web site for times and details.
---
¹ "[…] only the crudest dirt roads linked the northern region's fishing settlements. Generally speaking, the area was as remote to other Cape Bretoners as Greenland. A. S. MacMillan described the loneliness of Pleasant Bay, being 'shut in for months without any outlet, no doctor, mail only occasionally by dog team, no provision for getting a doctor….'" [Book 2 of Robert J. Morgan's excellent Rise Again! The Story of Cape Breton Island, p.96].↩