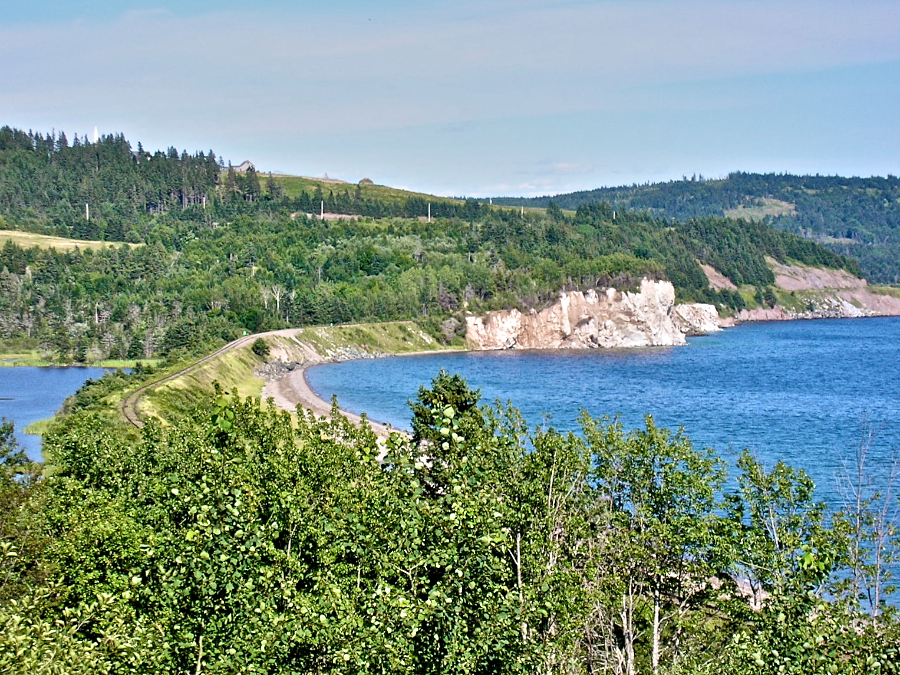 This unexpected white gypsum cliff on the Washabuck Peninsula catches the eye of the traveller to Iona from the west along Highway 223; it is found on the northern coast of the Bras d'Or Lake very near to Hectors Point, which marks the start of the Barra Strait on which Iona itself is located. There are fine views of and across the Bras d'Or Lake from this highway from Jamesville West onwards; they merit stopping along the road to allow them to be captured in your mind or by your camera.
The first railroads in Cape Breton were short; in the 1830's, wooden tracks for horse-drawn trains were laid to transport coal from Sydney Mines to the shipping docks of North Sydney. As coal mining assumed more importance in the middle and late 19th century, more tracks were laid in the industrial areas of Cape Breton County for hauling mined coal to waiting ships. The Canadian federal government undertook to construct a railway from Windsor (Ontario) to Sydney under the name Intercolonial Railway. Surveys were completed by 1886, after heated discussion over which of two routes the railway should follow on Cape Breton Island; the route through the centre of the island won out over the proposed route along what is today Highway 4 from Port Hawkesbury to Sydney. The completed line was first opened for trains in 1891; it required a ferry crossing between Mulgrave and Point Tupper to connect with the mainland. Today, the train, when it runs, crosses on tracks laid across the Canso Causeway, completed in 1955. With the demise of coal and steel production in industrial Cape Breton County and with the advent of a road system capable of transporting freight in the late 20th century, the railway declined to the point that, today, under the name Cape Breton and Central Nova Scotia (CB&CNS) Railway, operated by RailAmerica, its infrequent freight-only runs across Cape Breton Island require a provincial subsidy to provide even that modest level of service.¹
Nevertheless, the railroad itself remains a remarkable demonstration of the engineering prowess of the time. At Ottawa Brook, somewhat further west of Jamesville, a fine trestle can be studied from underneath. The scene in this photo reveals the causeway across the mouth of a cove of the Bras d'Or Lake that was built up to smooth the path along the coast. The 458 m (1,494 ft) bridge at Grand Narrows, where the railway crosses the Barra Strait, was a major engineering accomplishment for its day that had to solve the problem of crossing a significant distance in deep water without permanently closing the strait to the ships that then plied the Bras d'Or Lakes. Numerous other challenges in other areas along its path likewise had to be and were successfully solved.
---
¹ See pp. 155-159 of Robert J. Morgan's Rise Again! The Story of Cape Breton Island, Book One for a more detailed description of the railroad's genesis, construction, and political context. The provincial subsidy is discussed here. A trip from Brockville (Ontario) to Sydney Mines made in 2000, when passenger service was still available, is described here. The Orangedale Railway Museum web site has more information on Cape Breton's railroads, including reminiscences of railway employees and residents along its path, and the museum itself, housed in a former railway station, is definitely worth a visit.↩