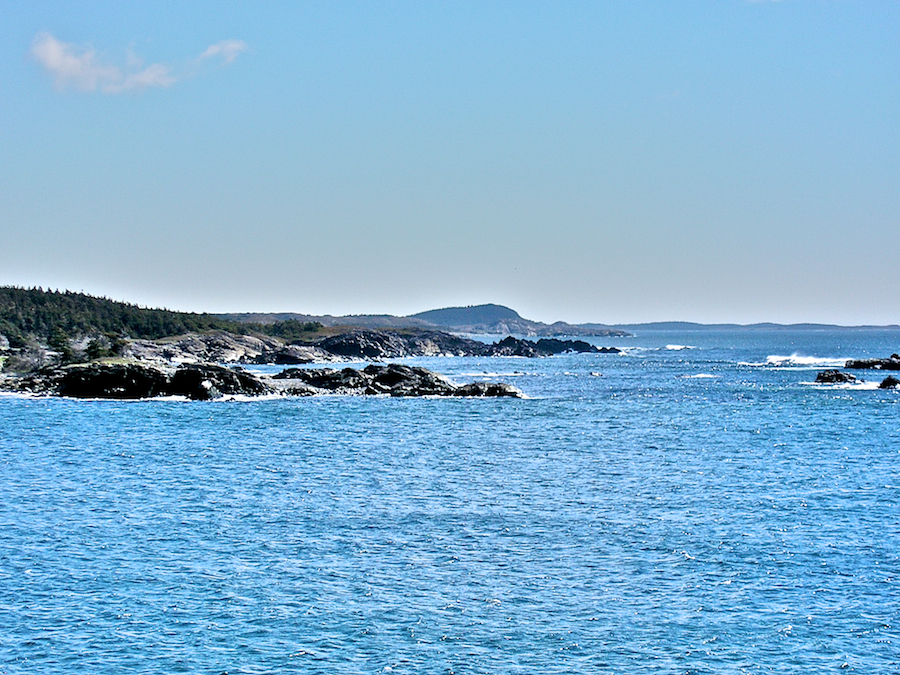 This view to the northeast from the west side of the entrance to Big Lorraine Harbour shows the beautiful rocky coasts that are found from Kennington Cove south of Louisbourg to Cape Breton (the cape) north of Louisbourg. The distinctive shapes of the headlands seen receding in the distance are sufficiently iconic to identify this coast as the Atlantic coast north of Louisbourg from Big Lorraine to Little Lorraine to Baleine to Cape Breton.
The word Lorraine is possibly a corruption of Lorembec, as Big Lorraine was known to the French of Louisbourg and to the English who defeated them as L'Anse du Grand Lorembec¹, which the English sometimes spelt as L'Orembeck.² The word Lorembec itself appears to be derived from the Mi'kmaq Elempukuek, given as equivalent to Lorembec in this glossary of Mi'kmaw place names in Cape Breton (the link is courtesy of the Wayback Machine archive, as the original is no longer on line).
One of the significant technological breakthroughs of the 19th century was the construction and laying of undersea communications cables. La Compagnie Française du Télégraphe de Paris à New York hired the English company Siemans to build and lay its second Atlantic cable, which stretched 4,152 km (2,242 naut mi) from Deolen, west of Brest in France, to Cape Cod in Massachusetts; this work was completed in November, 1879. A spur of this cable was also laid from St Pierre (a small island 25 km (13 naut mi) west of Newfoundland's Burin Peninsula that is the last French possession in Canadian waters) to Big Lorraine, work that was completed the following month. This very interesting web page has fine photos of samples of the cables that were laid and more information about this project; if you are at all interested in this subject, be sure to look at the rest of this extremely comprehensive site—it is clearly a labour of love dedicated to this technology and its history.
---
¹ See this web page for the French names of local geographical features significant to the siege of Louisbourg.↩
² This web page, at entry 202, derives the name from the corruption of Lorembec. However, I have my doubts about this derivation. First of all, this web page has several misspellings: for this derivation to work at all, what is there spelt as "Bee" has to be "Bec" to make any sense either semantically or phonetically. Secondly, the entry derives the name of the city and province of Québec (the reference to Cape Diamond (Cap Diamant)) from a similar, but long since discredited, folk etymology; rather than a shortened form of quel bec, the name Québec is now usually considered as of "uncertain origin", but is thought to be derived from native words: see, e.g., here and here for possible derivations. Thirdly, there's quite some distance phonetically from the French pronunciation of Lorembec to either the French or English pronunciation of Lorraine. I have, however, so far been able to find no other origin of the name.↩