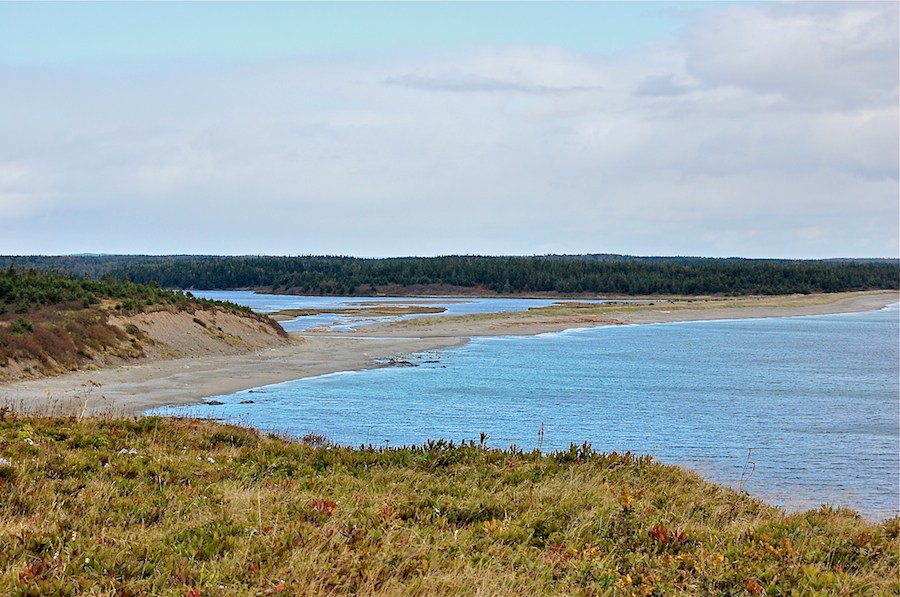 This fall view from the top of Red Cape shows the mouth of the Framboise River and Morrisons Beach; the entire panorama from the top of Red Cape, of which this is only a small part, is stunning, spanning nearly all of the compass rose. I do not know the exact height of Red Cape above the beach below, but the topographical map shows it is at least 15 m (50 ft) high and I would guess it to be just a bit less than 30 m (100 ft) high. The long sand beach swings way around in a crescent to the right outside the scope of this photo to reach the mouth of Fullers River at Fullers Gut southwest of Fourchu; The Nova Scotia Atlas names the out-of-view eastern part of the crescent as Framboise Beach, but the topographical map uses Morrisons Beach for both parts of the beach.
The Framboise River is a salmon-fishing river (catch and release only) which is formed from the Bagnells River, the Middle Framboise River and the Northeast Framboise River, which rise near the Middle River-Framboise Wilderness Area, located in the back country on both sides of the Richmond-Cape Breton County line. In French, framboise is the word for "raspberry"; I assume this river system was so named because of the prevalence of raspberry bushes on its banks when the French arrived, though there has been no evidence of any in the few parts of the river I have seen.
There are two roads, both gravel, which access this pristine area from the Fleur-de-Lis Trail in Framboise. The Crooked Lake Road starts at the memorial cairn in Framboise (at GPS 45°43.119'N 60°21.824'W) and leads out past Crooked Lake, an arm of the Framboise River, ending on the beach west of the Framboise River mouth and a bit east of Red Cape; if you are interested in ascending Red Cape or seeing it up close, this is the road you want to take. This road is listed among the birding routes of Richmond County at this web site, adding to its allure. The other road starts (at GPS 45°43.223'N 60°20.438'W) 1.6 km (1 mi) east of the bridge over the Framboise River in Framboise, where you will see a sign reading "Morrisons Beach Road"; this road, also known as the "Pig Point Road", offers fine inland views of the Framboise River and leads out to Morrisons Beach on the east side of the Framboise River mouth. Although the mouth of the Framboise is quite narrow, the current there is very swift and I could not see any shallow point where a crossing could reasonably be attempted, though it is possible that there might be one further inland.