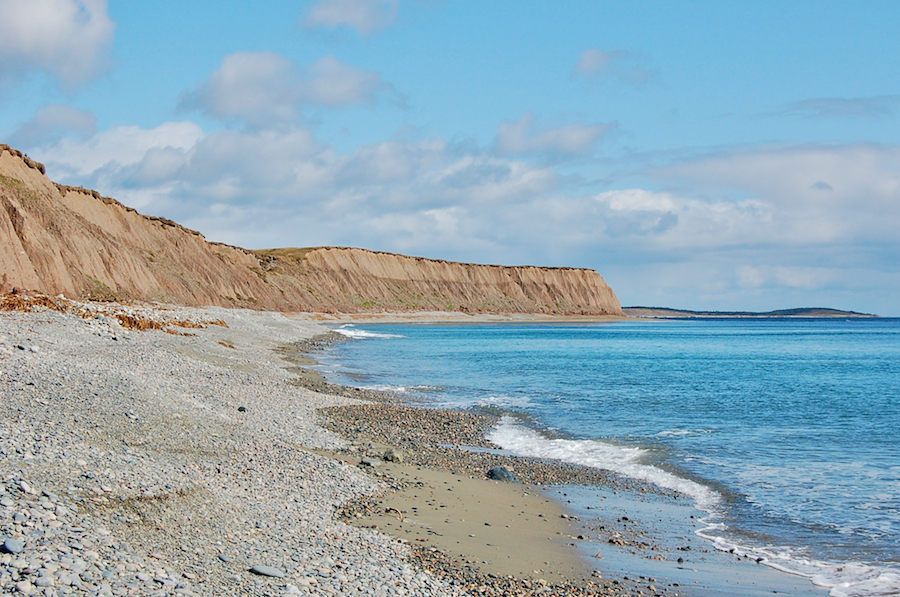 When I first discovered this beautiful area in June, I was on Morrisons Beach, on the east side of the Framboise River; I did not have the time to try to hike out to Red Cape, which I then saw covered in a mantle of green (and, had I tried, I'd have failed because I don't judge the mouth of the Framboise to be safely fordable). I did, however, resolve to return here and see what the area looked like from the top of Red Cape. In the mean time, I learned of the Crooked Lake Road, which removed any need for fording the river. It turned out to be as beautiful as I had expected, as one of the previous photos in this essay demonstrates.
Upon reaching the top of Red Cape, in addition to gorgeous views in every direction, I discovered an ATV trail that led along the edge of the cape high above the beach. As it was a bit too close to the edge for my comfort, I kept parallel to it, but well away from the edge; indeed, I discovered a place where the ground had collapsed beneath the trail from erosion. The end of that path brings one down off the cape at English Pond onto a huge pile of cobblestones, reminiscent of those at Gabarus, which block English Pond from reaching the ocean. Turning around, I learned then why this is called Red Cape! While the walk back to Red Cape along the very unstable cobblestone beach was quite tiring, it was also very much worth while, with beautiful views of the headland above and the coast in both directions. In this view, the point at the far right is Winging Point, south of Fourchu; Fullers Gut is to the left of and hidden by the end of Red Cape. Morrisons Beach is likewise hidden behind Red Cape in this view.
With this photo, this essay reaches its end. I hope you enjoyed this sampling of Cape Breton's iconic views and will seek out those which you did not correctly identify to see them in their full glory—each one is certainly worth the trip! Cape Breton Island is filled with such grand views nearly everywhere you go—you have only to look at the landscape, stop, and enjoy them. Happy travels!