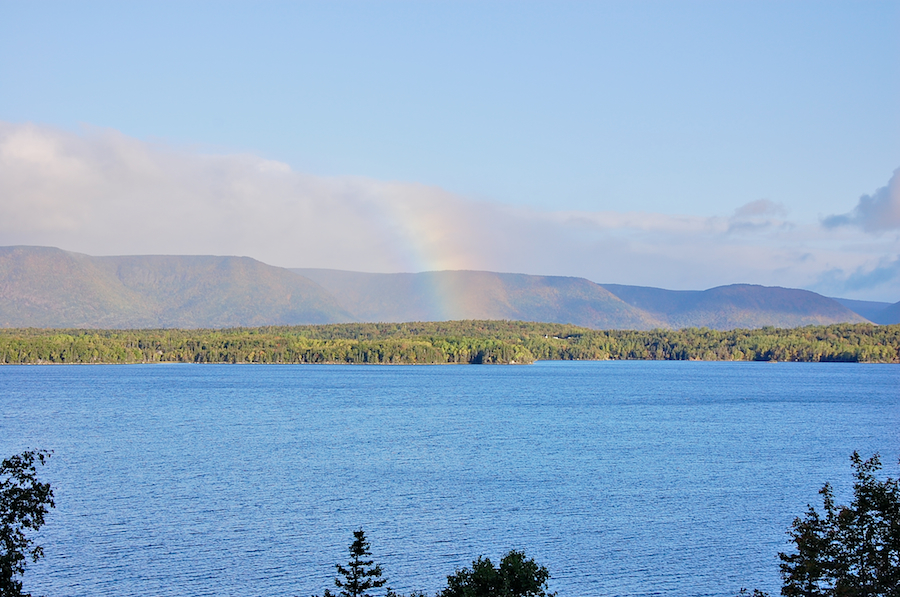 I arrived in Cape Breton a week before Celtic Colours began so as to be able to visit areas that I would not have time to drive to once the festival began. After my initial week-end feasting on the great music (afternoon cèilidh in Antigonish Saturday afternoon, West Mabou dance Saturday evening, and cèilidh at the Celtic Music Interpretive Centre on Sunday afternoon), I decided Monday morning, in spite of the dismal forecasts for the next few days, to drive to Cape North to spend some time North of Smokey, an area I don't see as often as I would like. The drive north on the Cabot Trail on Monday didn't yield many photos—dull overcast weather at best—and the leaves, unlike those I saw in Eastern Maine as I drove to Cape Breton, weren't yet showing very much colour. The spectacular drive out to Meat Cove was similarly pretty subdued colour-wise, though I did get a few greyish shots I reluctantly dropped from this essay for others that are a bit brighter. And the weather Monday was supposed to be better than Tuesday's, for which all-day rain had been forecast!
I could therefore hardly believe my eyes when I got out of bed Tuesday morning: although it was still mostly overcast, there was a great open streak of blue across the sky which continued to widen as I watched the sun rise. Cape North Village doesn't have breakfast facilities, so I stopped by the Country Market and picked up some pastries and coffee for breakfast. As the skies were getting ever bluer, I decided to drive out to White Point with, if the weather held, the intention of tackling the trails there—I hadn't done any climbing in over six weeks and, since the climbing at White Point is not onerous, I thought it would be a good way to start the fall hiking season.
The stunning White Point Road runs from the Cabot Trail at GPS 46°⁠51.891'N 60°⁠27.882'W to White Point Harbour at GPS 46°⁠52.584'N 60°⁠21.137'W, passing beside South Harbour, along the southern edge of Aspy Bay, and through Smelt Brook, before arriving at White Point Harbour. Since it lies off the Cabot Trail, it is often missed, though it is a much more scenic route to Neils Harbour than the Cabot Trail. As I was hungry, not long after leaving the Cabot Trail, I pulled off onto the side of road and ate breakfast while admiring the view of South Harbour and the massif beyond; after I had finished, I noticed that the waters of South Harbour were getting quite blue, an indication that the sky had opened up even more, so I got out of the car to take some pictures, getting the lovely chance shot of North Mountain and the Cape North Massif rising across South Harbour seen in photo #1. The rainbow wasn't caused by rain, but simply by the humidity in the air left by the rapidly vaporizing clouds.
Unfortunately, in my haste to eat breakfast, I failed to record either the mileage or the GPS coördinates of the location where I stopped; all I can say with certainty is that it lies between 46°51.891'N 60°27.882'W and 46°52.413'N 60°25.722'W, where I stopped next for photos, and that it is less than 3.5 km (2.2 mi) from the Cabot Trail, probably closer to half that distance. The coördinates given in the caption above are my best guess from studying the maps.
The road climbs pretty steadily from South Harbour to White Point along the northern edge of South Mountain, seen in photo #2 from east of Smelt Brook. South Harbour, formed by the outflow of Glasgow Brook and Effies Brook (it has no connection to the Aspy River system) and nearly closed off from Aspy Bay by a sand bar lying across its mouth, lies inland of the rightmost point one sees in this photo; the water in the right foreground is Aspy Bay. The Cabot Trail heads directly southeast towards Neils Harbour on the far side of South Mountain. Photo #2 gives one a pretty good view of the height gained as one approaches White Point, but note that, in photo #1, the road is already above the trees at the edge of South Harbour. Photo #2, like photo #1, also shows that the leaves were beginning to change colour, but had not yet progressed very far in this area.