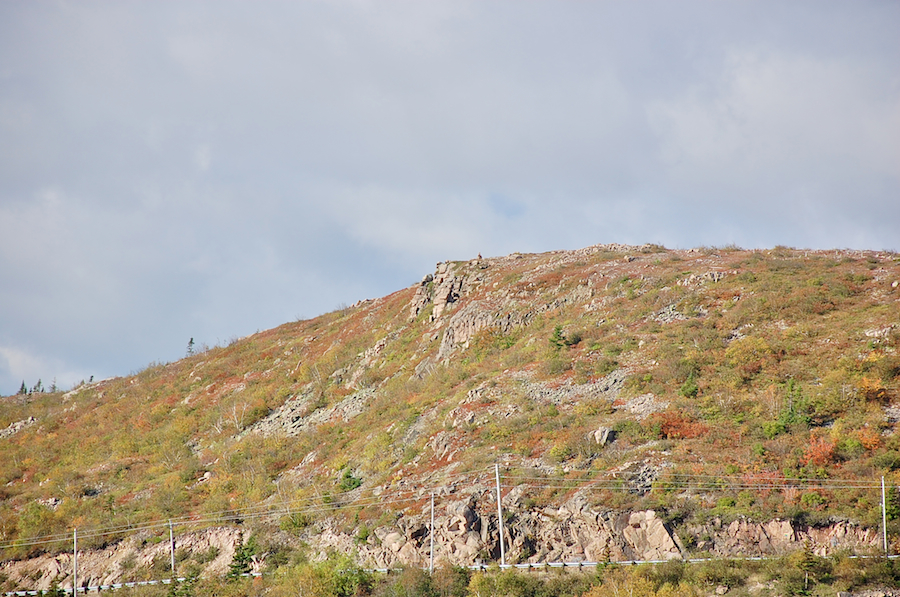 Wednesday morning, unlike the previous morning, dawned cloudy, though with some ambiguous hints of sun whitening a small area of the sky. I had hoped to get in another day of hiking and photography north of Smokey, so I began driving south along the Cabot Trail and stopping at all of the look-offs between Neils Harbour and Ingonish while thinking pretty seriously about giving the Broad Cove Mountain Trail (1.2 km (¾ mi) one-way) a try: "[s]hort but steep or, if you wish to look at it another way, steep but short", according to Barrett, p.122, but with "panoramic ocean views" from its summit, according to the Cape Breton Highlands National Park of Canada Park Guide and Map. It sounded pretty intriguing to me, in any case, especially as a way to get a small amount of moderate climbing under my belt after yesterday's non-demanding hike. Although the sky remained heavily overcast, the sun was occasionally breaking through and even lighting up parts of the shore at some of the initial look-offs, but, by the time I got close to Broad Cove, the gloom was palpable over Ingonish. From the Little Smokey look-off, I have photos of mist and dark (almost black) skies near at hand, but also of the sun lighting up the mountains south of Ingonish in the far distance. I therefore decided to forget about the Broad Cove Mountain Trail and to keep heading for the sun.
As the photo shows, there were sunny breaks south of Ingonish, and specifically here in the Cape Smokey Provincial Park, where the view is of a ridge leading to Smokey Mountain rising above the Cabot Trail, seen at the bottom of the photo. With soil and atmospheric conditions inhospitable to full-grown trees, the mountain ridge is clothed in lesser vegetation, which has already assumed in considerable part its fall hues. Amid all the yellows, browns, and oranges there are even occasional reds which, at large magnification, reveal themselves to be smallish maples of both bright red and red-orange hues. Even the grasses and vines growing among and on the rocks add their rust-coloured tints to this vista.
The skies, though, were cloudy bright, rather than bright blue; the views to the south and east were hazy and filled with a mix of white and dark grey clouds. Rain was forecast for the next two days north of Smokey. Since a cèilidh was to be held at the Celtic Music Interpretive Centre in Judique in the evening and since there appeared to be no opportunity for decent photos back north, I decided to return to the southern end of Cape Breton and so continued driving south along the Cabot Trail.