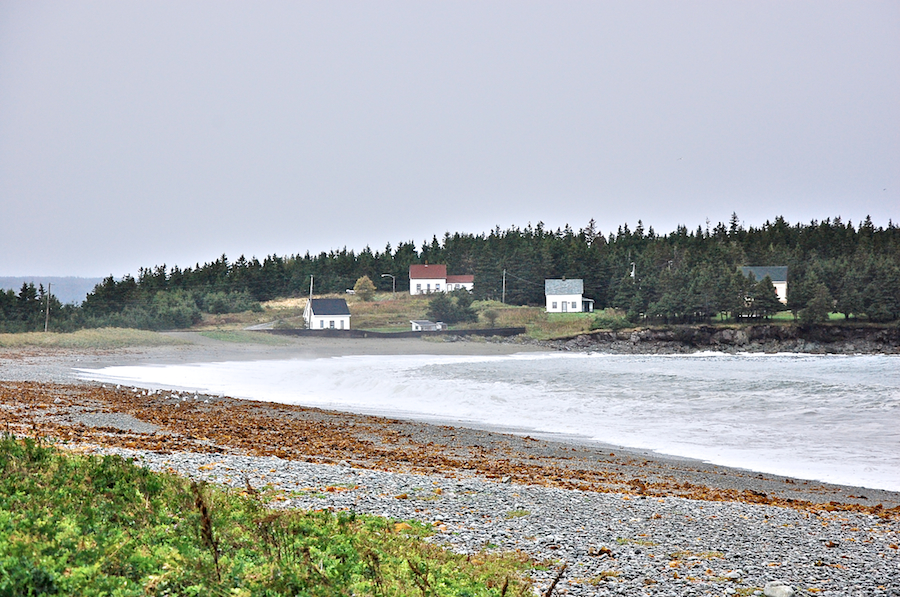 From Fourchu, I drove on to Gabarus in Cape Breton County. The weather remained rainy, windy, and grey, though the rain was not steady and there were even a few very fleeting rays of sun piercing the thick grey clouds. None of which, alas, showed up where I needed them most!
Gabarus, like Fourchu, has a beautiful coastal setting: it sits on Gabarus Bay, a large inlet of the Atlantic Ocean, across from the Fortress of Louisbourg National Historic Site of Canada. A small bit of the coast on the far side of Gabarus Bay can be seen through the haze at the far left of the photo above. As I noted in this photo of MacGillivrays Cove, Gabarus has an incredible pile of cobblestones, in places piled nearly 4 m (12 ft) high; I know of nowhere else on Cape Breton Island that there are so many cobblestones, though the beach south of Red Cape near English Pond comes close. In this view, the rust of the kelp that has washed ashore lends a touch of fall colour to the grey cobblestones.
From Gabarus, I drove back south to Gabarus Lake, and then west to Victoria Bridge, north along the Mira River, and then southwest along the Salmon River Road and Salem Road to Hays Cove, travelling across the mostly unpopulated interior of Cape Breton and Richmond Counties; by then, light rain had resumed, it was getting late, and I just had no heart left for any more grey photos, even though the countryside through which I passed was, as always, beyond beautiful. So, it was on to Mabou via Highways 4, 104, and 19, where I was soon in bed and asleep, dreaming of sunnier tomorrows.